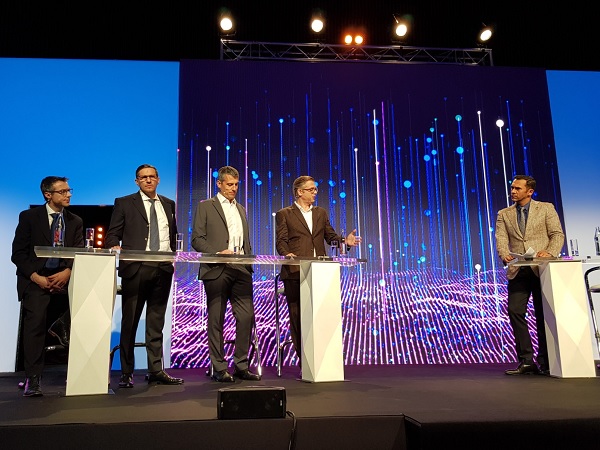 Big data session; Credit: Jazmin Campbell
Tuesday marked the first day of the Association of the Luxembourg Fund Industry's (ALFI) Global Distribution Conference at the European Convention Center Luxembourg (ECCL).
The two-day event is expected to attract some 600 people from Luxembourg and beyond to listen and engage in discussion with over 50 local and international expert experts in global distribution.
The conference kicked off with a welcome address by ALFI chairwoman Corinne Lamesch, followed by a Government address by Luxembourg's Minister of Finance, Pierre Gramegna, and an introduction by Freddy Bausch, Partner at Linklaters LLP. Presenter and journalist Nathalie Reuter was Master of Ceremony.
The programme continued with various discussions and workshops, dealing with topics as diverse as recent developments in European, Asian and US fund industries, aviation, big data and sustainability. On the second topic, speakers Sascha Lingling (UBS Fondcenter), Viktor Fischer (ACOLIN Fund Services) Lauri Paal (KNEIP) and Andy Alexander (JP Morgan) discussed the challenges and opportunities presented by data in the funds industry. The session, moderated by Nasir LHoFT CEO Zubairi, looked more specifically at the contribution of data to distribution, with Lauri Paal (Chief Product Officer at KNEIP) explaining that "it is a great opportunity to get on that journey, but if you don't have control of your data, technology is ruthless".
On the subject of compliance, Sascha Lingling (Chairman of openfunds and Head Platform Design and Strategy for UBS Fondcenter) named the need for data to comply with regulations and the principle of liability as two of the biggest challenges. Andy Alexander (Head of Data Science at JP Morgan) added that many financial institutions think "if they don't use data, they can't be held accountable for it but [...] data is a very large and different beast". As such, Mr Alexander said that making people accountable for their data was the greatest internal challenge in the industry.
After lunch, the conference continued with a keynote speech on new strategies and a session on the perspectives of young people in the industry, as well as sessions dedicated to company culture, profitability, distributors (looking at regulation, pricing, digitalisation, investor education, etc) and distribution.
In addition, the first day saw the presentation of the Broadridge Distribution Achievement Awards; BlackRock and J.P. Morgan Asset Management were the major category winners in these awards.
The ALFI Global Distribution Conference will continue tomorrow, Wednesday 25 September 2019, at the ECCL with discussions on pensions, the EU's 4th Money Laundering (AML) Directive, cross-border fund distribution in the EU and globalisation.
For further information, including the full programme and list of speakers, see https://events.alfi.lu/global-distribution-conference/.