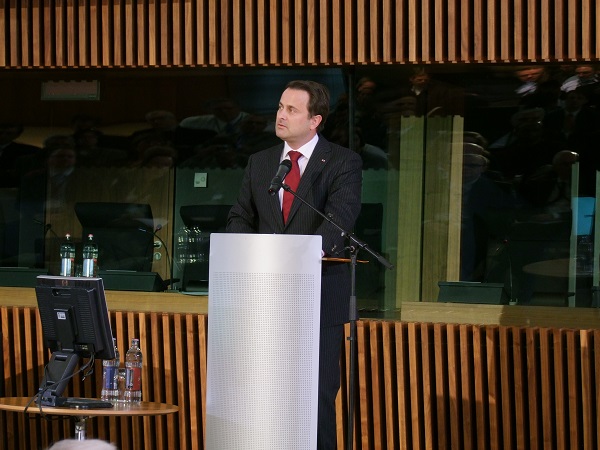 The European Data Forum opened its 2-day annual conference at the Luxembourg Conference Centre in Kirchberg on Monday morning with a welcome speech by Gabriel Crean, CEO at the Luxembourg Institute of Science and Technology (LIST) in front of around 700 attendees.
Xavier Bettel, Prime Minister of Luxembourg, asked how we could best leverage Big Data in Europe and used the example of commercial radio to illustrate his message. He said that while Luxembourg is known as xxx, the data revolution has been at the centre of its economy, and has the headquarters of a major broadcaster in Luxembourg. He mentioned too the pirate Radio Luxembourg which broadcast to both sides of the Iron Curtain.
He said that one needs not only to think big, but to act big too and that Luxembourg is a world leader in satellite technology. On the topic of Digital Luxembourg, he added that Digital Technology is a crucial element of our economy, transforming society and developing digital skills, among crucial issues to be addressed to be able to stay ahead, with development in various sectors.
The power of digital technology is that it is cross-border with clear benefits for all in Europe. He urged Europe to take the lead in developing a world for the future, with Luxembourg fully supporting the Digital Economy. Ongoing reform of data protection is a priority of Luxembourg's EU Presidency; he said the road ahead is challenging snd encouraged the forum to make great progress over the two days.
Andrus Ansip, Vice-President of the European Commission for the Digital Single Market, and firmer Prime Minister of Estonia, asked why is the issue if scale so difficult in the European Union and declared that, sadly, the Digital Single Market dies not yet exist. Data can improve healthcare and education and can help make cars safer. Current rules do not reflect the fast-changing economy; we need to think differently. Ownership of data can be transferred and must be opened as far as possible. But data privacy must be respected as trust is everything.
He said that the data protection reform will ensure that Europeans are masters of their own data. But we must not forget the international aspect of data as we use data in new and imaginative eats. The data economy is huge and has an annual growth rate of 40%. Progress must drive innovation and public service providers which will need data to be transferrable between locations. Data must move freely across borders and in a single data space.
The event includes high-level presentations by visiting speakers, looking at Future Data Vision, Industrial Challenges and Applications, Big and Open Data, Newest Trends in Bug Data Technology, European Success Stories on Open Data, Educating Data Scientists and Data Skills, Multilingual Big Data for eCommerce and eServices, as well as various keynote addresses. On Monday evening a Gala Dinner was also being held.
Photos by Geoff Thompson, (above): Xavier Bettel, Prime Minister