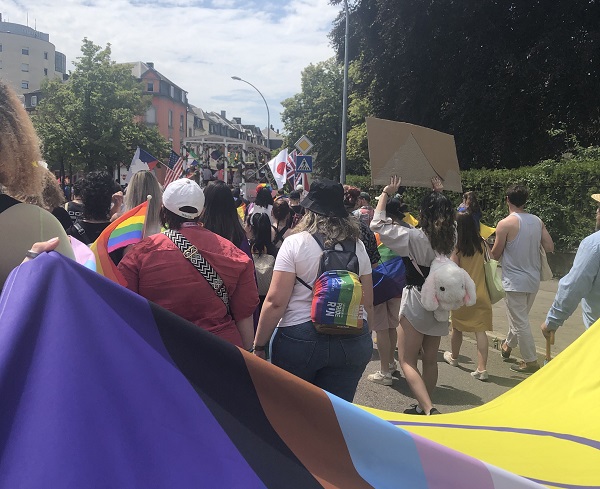 Credit: Otilia Dragan/Chronicle.lu
The Luxembourg Pride Equality March took place at noon on Saturday 8 July 2023, starting at the Aloyse Meyer car park in Esch-sur-Alzette as part of a two-day Street Fest during Luxembourg Pride Week (1-9 July).
The Equality March gathered around 800 people, among whom were also European institutions, some big corporations and Centre LGBTIQ+ CIGALE (with a 5-metre-long progress pride flag) and Rosa Lëtzebuerg. People were dressed in all the colours of the rainbow, they cheered and waved their flags, danced and walked the route via Boulevard John Fitzgerald Kennedy and past the Place de la Résistance until they reached the town hall. A full lineup awaited them despite the heat.
Several ministers of the Luxembourg government attended, including Prime Minister Xavier Bettel and the ministers of equality, culture and justice, the economy and family affairs and integration, among others. Former minister and now City of Luxembourg councillor Corinne Cahen also attended, as did several diplomats and the Mayor of Esch-sur-Alzette, Georges Mischo.

Prime Minister Bettel held a short speech noting that in some parts of the world he and his husband would not be able to be married, live together or even show their feelings publicly. He stated how proud he is of all the work done in Luxembourg but added that there are still other rights to be adapted. "Be intolerant to intolerance!" he urged.
A minute of silence was observed for all the LGBTIQ+ people unable to be there on the day, for the people harmed and oppressed and for those "no longer with us since last Pride."
The day continued in full swing on two different stages in Esch-sur-Alzette (the City Hall Stage and the Village Stage), despite the overheating sound systems causing some issues here and there. Luxembourg's drag performers wowed their audience with glitzy outfits and dance moves, but the rest of the lineup was no less enjoyable and varied with Girli (UK), Maz (Germany) and Pleasing (Luxembourg) performing against all weather odds. They were followed by a late-night performance of The Weather Girls, who brought great energy and positivity to the stage against a rainbow-coloured-lit town hall with the Luxembourgish adage inscribed in the building above: "Mir wölle bleiwe wat mir sin" (We want to remain what we are). They performed hits such as "We Are Family", "I'm So Excited", "Hit the Road Jack" and the much-expected "It's Raining Men".

The evening continued into a late-night party at the Kulturfabrik's Pride after party, and another day with a full (albeit more relaxed) programme on Sunday 9 July 2023 kicking off with a Rainbow Brunch and Drag Bingo and continuing with a lineup of local and international singers and drag performers.
This weekend was part of the Luxembourg Pride festivities which took place from 1 to 9 July 2023 and included exhibitions, film screenings, concerts, performances, the Luxembourg Pride Run and various parties, to name a few.