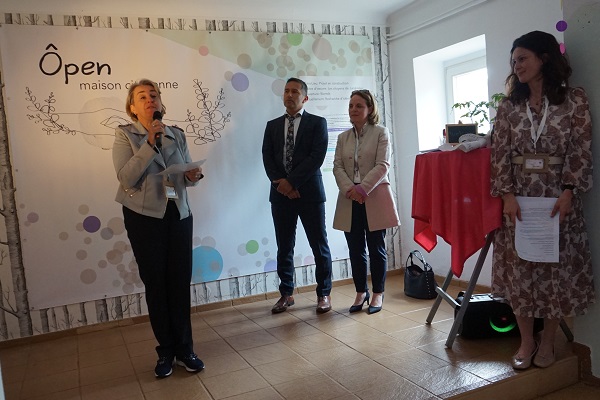 (L-R) Petra Penders, project coordinator at Œuvre Nationale de Secours Grande-Duchesse; Raphaël Schmitz, Junglinster alderman; Corinne Cahen, Luxembourg's Minister for Family Affairs, Integration and the Greater Region; Perrine Pouguet, President of Ôpen; Credit: Jazmin Campbell/Chronicle.lu
Monday 22 May 2023 marked the inauguration of "Ôpen - Maison citoyenne", the first "third place" in Luxembourg's eastern region; located in Junglinster, this community space aims to bring people together and promote both intercultural living together and the ecological transition.
The inauguration took place in the presence of Luxembourg's Minister for Family Affairs, Integration and the Greater Region, Corinne Cahen, the Mayor of Junglinster, Romain Reitz, alderman Raphaël Schmitz and Petra Penders, project coordinator at the Œuvre Nationale de Secours Grande-Duchesse, as well as many Ôpen volunteers and other members of the community.
Ôpen asbl President Perrine Pouguet reflected on the origins of this project, which is the result of a local consultative and collective process. It was in part inspired by workshops led by CELL (related to climate) and ASTI and Luxembourg's Ministry of Family Affairs and Integration (related to the living together pact) in May and June 2022, respectively. In September 2022, Ôpen asbl was born and in December 2022, the municipal council of Junglinster approved the required finances to rent the premises (for two years) and ensure the functioning of this new third place. In January 2023, the non-profit received a subsidy from the Œuvre Nationale de Secours Grande-Duchesse for the role of coordinator.
Mainly through word of mouth, the project has now grown to more than 60 members, all with a shared vision of "a place of citizen's expression, a shared space […] around strong ecological and social values", noted Perrine Pouguet.
Raphaël Schmitz, alderman responsible for integration in the municipality of Junglinster, praised this project and wished it "great success". He presented some of the other integration-related activities organised in Junglinster, such as a language cafe and an annual newcomers' reception. He described Ôpen as "the fruit of the passion, the commitment and the perserverence" of Perrine Pouguet and her team and noted that the non-profit also actively participates in and supports the municipality in raising awareness about sustainable development and the ecological transition, as well as living together.
Petra Penders of the Œuvre Nationale de Secours Grande-Duchesse Charlotte thanked all those involved in developing this project. She briefly presented the history and the activities of the Œuvre, which supports projects in the areas of social, culture, the environment, sport and health, and memory and heritage. She noted that the Œuvre had felt that this particular project responded to a "real need" for a third place in the east of the country; she described a "third place" as "a meeting place, a place of exchanges, [...] a space open to all which encourages collaborative projects". She particularly highlighted the focus on sustainable development and the participative aspect of the project, and wished it lots of success.
Minister Cahen expressed her pride at seeing how the living together pact (Pakt vum Zesummeliewen) had been "filled with life". She praised Junglinster as an "avant-gardist" and "model" municipality in terms of new projects encouraging integration, inclusion and living together, and expressed the hope that this project would inspire the creation of more third places in other municipalities. She stressed the importance of such meeting places, particularly in a multicultural country like Luxembourg.
Instead of a traditional ribbon cutting ceremony, the speakers proceeded to each write a message on the inauguration banner to mark this official opening.
Chronicle.lu had the opportunity to speak with some of the executive board members about Ôpen asbl and learned that its internal structure takes the form of various "circles" (or teams) with specific purposes. These relate to activities, mission, communication and fundraising, the cafe, the greenhouse and "under construction", as well as the "general" circle. The executive board (all founding members and volunteers) is composed of Perrine Pouguet (President), Kirsten Heinrich-Milhan (Secretary), Dominika Wojtkowska Banaszek, Sana Hadzic-Babacic and Senad Alic. In May 2023, Guillemette Joly-Turquin joined the team as coordinator. Those present spoke of a "spirit of friendship" and the desire to "create a little community" committed to a "fairer, more resilient and more sustainable society".
Ôpen is currently open Monday to Friday from 09:30 to 17:00. Since January 2023, when the non-profit moved into its new premises (10-12 Route d'Echternach, L-6114 Junglister), it has been organising various events, from "Open Food" Wednesdays (foodsharing) and collective gardening to upcycling workshops and exhibitions, among others. It is also a place where people can simply walk in and meet and exchange and share their knowledge with others. Visitors will find a "repair cafe" and a children's corner, as well as the greenhouse out the back. Volunteers are always welcome and members of the community are invited to suggest or lead a particular workshop or other event according to their skills and interests. Further information is available on the Facebook page: https://www.facebook.com/openlenster.