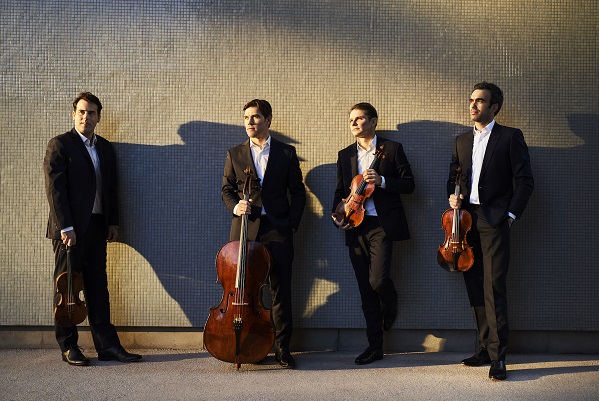 Credit: Jérome Bonnet
French string quartet Quatuor Modigliani will play a concert at the CAPE - Centre des Arts Pluriels d'Ettelbruck on Friday 26 November 2021 at 20:00.
Quatuor Modigliani has secured a place among the most demanded quartets of our time, appearing as a regular guest in major international series and prestigious venues around the world.
This Friday, the ensemble will perform at CAPE Ettelbruck and, on the occasion of the 225th anniversary of his birth, the concert programme will honour Franz Schubert. The quartet will play well-known pieces such as String Quartet No. 14, also known as Death and the Maiden (La Jeune Fille et la Mort), whose tragic character reflects the deepest part of Schubert's work.
Founded in 2003 in Paris, Quatuor Modigliani is composed of Philippe Bernhard and Loïc Rio on violin, Laurent Marfaing on viola and François Kieffer on cello. Shortly after their training at the Conservatoire National Supérieur de Musique in Paris, the young musicians gained international attention by successively winning three first prizes at international competitions, namely the Frits Philips String Quartet competition in Eindhoven in 2004, the Vittorio Rimbotti competition in Florence in 2005 and the Young Concert Artists Auditions in New York in 2006.
In 2011, the quartet created the Saint-Paul de Vence chamber music festival and, since 2014, has been artistic director of the Rencontres Musicales d'Évian. In 2020, the ensemble also took over the artistic direction of the Bordeaux International String Quartet Competition.
Quatuor Modigliani has toured the world, including Australia, the United States, Japan, China and Israel. The group has recorded several critically-acclaimed records, receiving several Grand Prix du Disque from the Académie Charles Cros.
Tickets for this CAPE concert cost €26 (reduced for under-26s: €13) or €1.50 with a Kulturpass and can be purchased via tel.: 2681-2681 or via email: billetterie@cape.lu.