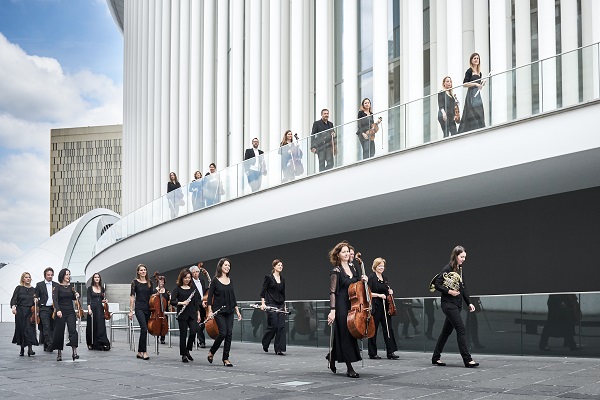 OCL; Credit: Kaupo Kikkas
The Orchestre de Chambre du Luxembourg (OCL) has announced that it is playing its first concert of the season at Philharmonie Luxembourg on Sunday 24 October 2021 at 17:00.
This opening concert, held under the baton of OCL artistic and music director Corinna Niemeyer and in the company of cellist Aurélien Pascal, is an invitation to celebrate light, life and wit in the work of composers of genius, who enlightened their own times and continue to brighten ours today.
In this "luminous ideas" (Idées Lumineuses) concert, spectators will in turn discover Duchess Anna Amalia von Sachsen's intelligence and love of art, absorb the inventiveness and originality of Joseph Haydn and allow themselves to be transported by the genius and freshness of Wolfgang Amadeus Mozart.
Programme
Anna Amalia von Sachsen Weimar: Ouverture and Entracte from "Erwin und Elmire"
Joseph Haydn: Concerto in D Major for cello and orchestra
Wolfgang Amadeus Mozart: Symphony n°41 "Jupiter"
Tickets cost €30, €15 for under-27s and €1.50 with a Kulturpass. Free entry for children under 12. Reservations can be made online at: http://tickets.luxembourg-ticket.lu/31909 or via tel.: 470-8951.