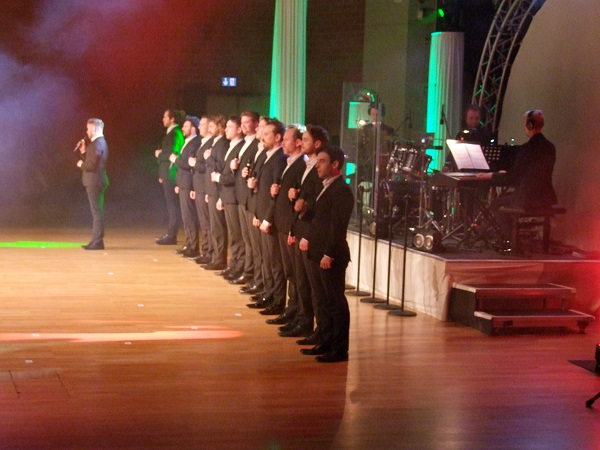 12 Tenors;
On Wednesday 9 January 2019, the Conservatoire de Musique in Luxembourg-Merl hosted a full house for a concert of the 12 Tenors as part of their "Best of" tour.
The twelve top international singers, each with their own unique voice, were accompanied by a three-piece orchestra - two on keyboards and one on percussion - and a spectacular light show.
The concert was a mix of serious and light-hearted, with choreography based around different formations depending on the song being performed. Different members of the group took turns to address the audience in German, English and French, with songs in these languages plus in Italian. Apart from the individual voices, what set this performance apart was the harmonies accompanying the lead singers / soloists for individual songs.
The concert's repertoire included both classical arias, including Nessum Dorma from Puccini's opera Turandot, as well as rock and pop classics such as Leonard Cohen's "Hallelujah" and swing such as "I did it my way". They performed with aplomb a medley of Beatles' music, including "Yesterday", "Twist and Shout" and "Hey Jude", and also a medley of Queen songs including "Somebody to love", "Don't Stop me Now" and "We are the Champions", and also by Michael Jackson.
The 12 Tenors brought proven classics and new arrangements of famous world hits to the delighted audience, many of whom were clapping along and out of their seats, dancing to the beats.
The 12 Tenors next perform at the Trifolion in Echternach tomorrow, Thursday 10 January 2019 (sold out), but will return to Luxembourg next year, with concerts on 14 January 2020 at the Trifolion in Echternach and on 20 January 2020 at the Conservatoire de Musique in Luxembourg-Merl.