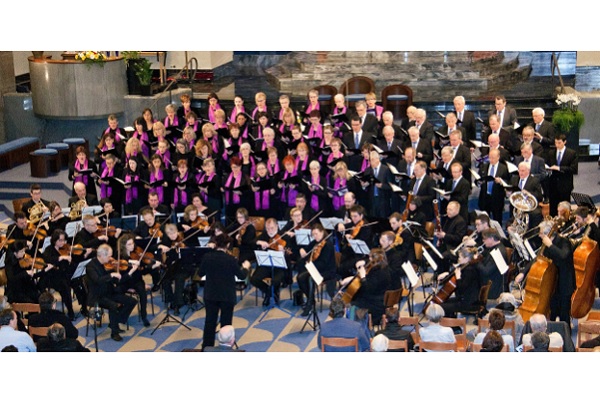 Kopstal choir;
The Municipality of Kopstal has put forward Luxembourgish talents and artists of all kinds for a number of years; this time, the new association, called "Kulturasbl", presents an exceptional and spiritual concert which will take place on Saturday 26 January 2019 at 20:00 at the Kopstal Church with the Mixed Choir of the Conservatoire of the Ville de Luxembourg.
About the Mixed Choir of the Conservatoire de la Ville de Luxembourg
The Mixed Choir of the Conservatory of the City of Luxembourg was launched in 1929 thanks to the initiative of the director of the conservatoire, Lucien Lambotte, who directed it himself until his retirement in 1953.
The Mixed Choir enjoys an excellent reputation in Luxembourg. It comprises some 80 amateur choristers who work under the direction of Nancy Back-Kelsen. These singers surprise audiences by the high level of their production, as evidenced by the praiseworthy music critics on the occasion of programmes such as Giacomo Puccini's Messa di Gloria, Andreas Romberg's Das Lied von der Glocke, Carl Orff's Carmina Burana, Fauré's Requiem Mass, Schubert's Mass No. 5, Mozart's Requiem Mass, Gioachino Rossini's Messa di Rimini, Schubert's Mass No. 3, Luigi Gatti's Schöpfungsmesse, JN Hummel's Mass No.1 , Tolga Kashif's Queen Symphony, Bernstein's West Side Story, CM von Weber's Freischützmesse, Mozart's Waisenhausmesse and many more.
Programme:
Gaetano Donizetti: Messa di Gloria and Credo, with the Conservatoire Mixed Choir and Estro Armonico ensemble
Soloists: Hélène Bernardy, Monique Simon, Marc Dostert and Carlo Migy
Direction: Nancy Back-Kelsen
Tickets €17 (pre-sale €15) by email: marc.bour@kopstal.lu, or by transfer to account LU88 0141 7595 8150 0000 with the mention: Concert spiritual