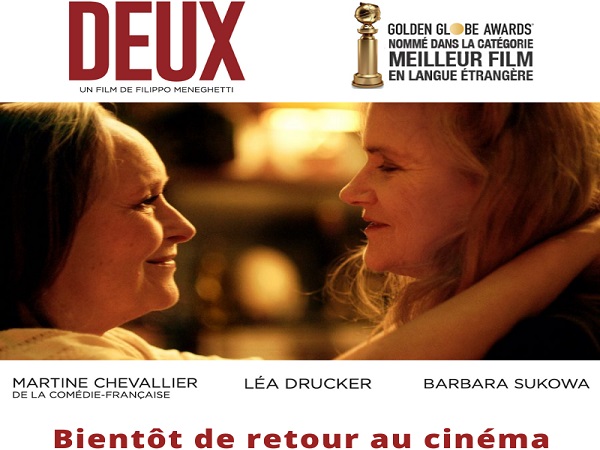 Two of Us; Credit: Tarantula Luxembourg
Tarantula Distribution has announced that it is re-releasing the film "Deux" (Two of Us) in Luxembourg cinemas this week.
Following its Golden Globe nomination (in the Best Foreign Language Film category) last week, this Franco-Luxembourg-Belgian co-production will be screened in Luxembourg again from Wednesday 10 February 2021 at Ciné Utopia and CDAC cinemas.
Filippo Meneghetti's Two of Us has had a very successful festival career all over the world (more than 70 selections including the Toronto International Film Festival, BFI London Film Festival, International Rome Film Festival, Thessaloniki International Film Festival...) and obtained nearly 25 awards (Audience Award and Student Award at the Montpellier Mediterranean Film Festival, Best First Film and Best Duo Actresses at the 26th Enlightenment Ceremony...).
Selected to represent France at the 2021 Oscars and nominated at the Golden Globes in the Best Foreign Language Film category, Two of Us was co-produced by Paprika Films (France), Tarantula Luxembourg and Artémis Productions (Belgium). The Italian director's first feature film received financial support from the CNC, the Occitanie Region in France and the Luxembourg Film Fund, among others. International sales of the film are handled by The Party Film Sales.
Filippo Meneghetti, originally from northern Italy, began his career in New York working in the independent cinema circuit. After studying cinema and then anthropology in Rome, he collaborated on the writing of the feature film "Imago Mortis" (2009). At the same time, he worked as a first assistant director for several years. He went on to direct the short films "Undici" (co-directed with Piero Tomaselli, 2011) and "L'intruso" (2012), which were selected and awarded at several Italian and international festivals. After finishing the short film "La bête" (his first French film), he met with success with his first feature film, Two of Us, featuring actresses Barbara Sukowa and Martine Chevallier.
Synopsis
Nina and Madeleine are two pensioners who are deeply in love with each other. In the eyes of all, they are simply neighbours living on the top floor of their building. On a daily basis, they come and go between the two apartments. The landing is a bridge between their worlds: the tidy life of Madeleine (Martine Chevallier), an attentive grandmother, who receives regular visits from her daughter Anne (Léa Drucker), and the freer life of Nina (Barbara Sukowa), an uprooted Austrian who endures less and less this love lived in the shadows. One day, something happens and the doors close. Madeleine is torn from Nina. The landing that separates them then becomes a ditch that they will try at all costs to cross to find each other.