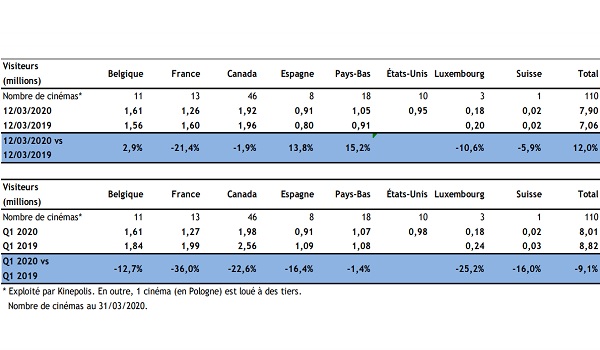 Credit: Kinepolis Group
Kinepolis Group has presented a business update for its cinemas in the first quarter of 2020; in Luxembourg, cinema attendance fell by 10.6%.
Overall, Kinepolis Group noted an increase in visitor numbers and an improvement in financial results up until cinemas closed in mid-March due to the COVID-19 pandemic. This increase has been attributed in particular to the group's recent acquisitions.
Indeed, up to and including 12 March in the first quarter of 2020, attendance increased by 12%, mainly due to the addition of American operations which were acquired in the fourth quarter of 2019. Revenue from the sale of tickets, drinks and snacks grew faster than the number of visitors, thanks to an increase in revenue per visitor in practically all countries. Adjusted net income and free cash flow also increased, whilst net financial debt decreased compared to 31 December 2019 due to higher operating income combined with positive working capital and lower interest paid.
Although the number of visitors to Kinepolis cinemas in Belgium (up 2.9%), Spain (up 13.8%) and the Netherlands (up 15.2%) increased in the first quarter (until mid-March), attendance dropped in France (down 21.4%), Luxembourg (down 10.6%) and Canada (down 1.9%) in the first months of 2020.
Kinepolis Group has 55 cinemas in Europe, including three in Luxembourg. Since the acquisition of the Canadian film group Landmark Cinemas and the American group MJR, Kinepolis also counts 46 cinemas in Canada and ten in the United States.