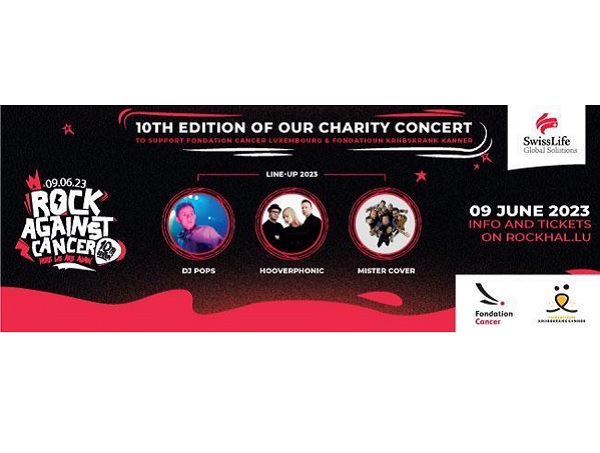 Credit: Swiss Life Global Solutions
Swiss Life Global Solutions has announced the tenth anniversary of Rock Against Cancer, which will be celebrated with a concert at the Rockhal in Esch-Belval on Friday 9 June 2023, featuring Hooverphonic, Mister Cover and DJ Pops.
As every year, Swiss Life Global Solutions will donate all proceeds from the concert to Fondation Cancer and Fondatioun Kriibskrank Kanner. The company reported having been able to donate €208,000 over the past decade.
The lineup will feature Hooverphonic, a Belgian trip hop group founded in 1995 presenting a variety of eclectic music genres. Geike Arnaert returned 20 years after the release of the group's internationally acclaimed album The Magnificent Tree.
Mister Cover will offer a journey into the world of rock, soul, French chanson and pop, from the 1950s to today. The band will cover hits of popular international artists and bands such as the Beatles, U2, the Police, Katy Perry, the Blues Brothers, Lenny Kravitz, the Rolling Stones, CloClo, Rihanna, Daft Punk, Queen, the White Stripes, Telephone, Bob Marley, Pink Floyd, Ray Charles, Jean-Jacques Goldman, Coldplay, Madonnaand others.
DJ Pops, a young Belgian performer, will revisit the last 30 years of deep house and tech house beats.
According to Luxembourg's Health Directorate, around 1,000 people die from cancer every year in the Grand Duchy. In 2021, cancer was the leading cause of death in Luxembourg.

Ticket prices start at €30. Tickets are available online at https://rockhal.lu/shows/rock-against-cancer.