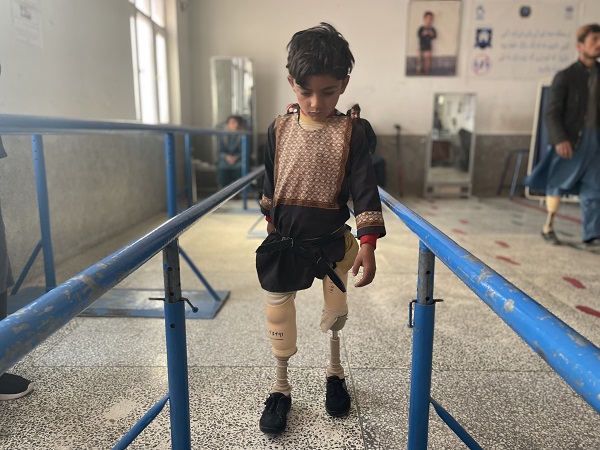 Imran, a 7-year-old victim of explosive weapons, receives treatment in the Kandahar rehabilitation centre in Afghanistan; Credit: Ouest France- P. Moyon / HI
Handicap International Luxembourg has announced that it is organising the 23rd edition of its "Solidarity Pyramid" (or shoe pyramid) against the bombing of civilians on Saturday 1 October 2022 in Place d'Armes in Luxembourg-Ville, from 09:30 to 17:00.
This event is accompanied by an online mobilisation action where everyone is invited to sign a petition to ask Luxembourg to commit to the protection of civilians.
25 years ago, the Ottawa Treaty banning landmines was signed and Handicap International received a Nobel Peace Prize alongside members of the International Campaign to Ban Landmines. That same year, Handicap International Luxembourg was born.
2022 is therefore marked both by the anniversary of major battles, but also by a historic turning point in the fight against bombing in populated areas with the forthcoming signature of an international agreement for the protection of civilians. States involved in the process of an international political declaration to protect civilians approved the final text on 17 June 2022. Many have already pledged to sign it at the adoption conference to be held on 18 November 2022.
Luxembourg has been involved in the diplomatic process from the start. However, according to Handicap International, the country has not yet publicly expressed its intention to sign this agreement. Consequently, Handicap International is launching a new citizens' campaign aimed at calling on the Luxembourg Government not only to sign the international agreement to protect civilians against explosive weapons, but also to implement it without delay and promote it to states that have not yet joined the movement.
Handicap International stressed that this was more necessary than ever: 90% of bombing victims are civilians. Many cities are destroyed by bombing and shelling. In Syria, for example, 80% of the city of Raqqa was destroyed by massive bombing in 2017. In Ukraine, some initial reports indicate that 300,000 km2 of the country may already require humanitarian demining.
During this year's Solidarity Pyramid initiative, Handicap International Luxembourg will be offering many activities to members of the public, including a guided exhibition allowing them to discover, through various educational panels, the reality of bombing in populated areas, live demonstrations of demining workshops by professionals and an auditory immersion experience.
The Solidarity Pyramid will also be an opportunity for Luxembourg's public to meet and discuss with the teams of Handicap International Luxembourg and their volunteers and to sign a citizen mobilisation petition calling on the Luxembourg Government to act. This petition is also widely distributed on the website www.stopbombing.lu as well as on social media.