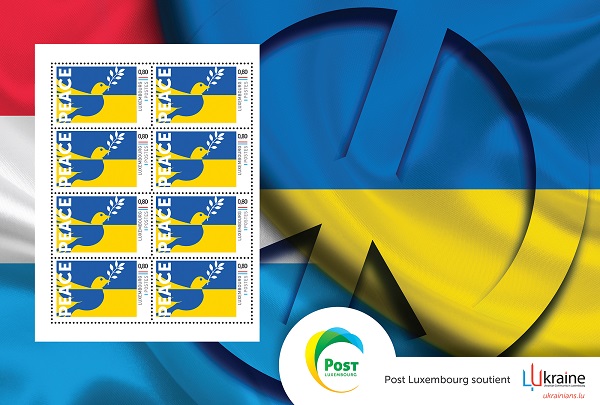 Credit: POST Luxembourg
POST Luxembourg has announced that it is issuing two new "solidarity" stamps in support of Ukrainian refugees, from Wednesday 11 May 2022.
Issued in the form of "meng.post" stamps, POST Philately's customisable stamp, this issue is made up of two stamps with a postage value of €0.80 and €1.40 which can be used to send a standard letter in Luxembourg, respectively to the "international – world zone 1", of which Ukraine is a part.
All proceeds from the sale of these stamps will be donated by POST Luxembourg to LUkraine asbl, a non-profit organisation representing the Ukrainian community in Luxembourg, to support them in their actions in favour of refugees from Ukraine.
From Wednesday, these solidarity stamps are available in the form of eight-stamp sheets in all Espaces POST points of sale and post offices, as well as in the POST Philately online store www.postphilately.lu and at the Philatelic counter in Cloche d'Or (13 Rue Robert Stümper).