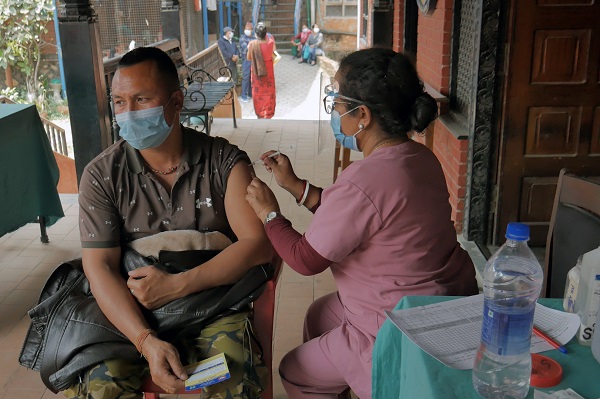 Vaccination centre in Nepal; Credit: AEIN
Luxembourg-based non-profit association "Aide à l'Enfance de l'Inde et du Népal" (AEIN) has launched a call for donations to help India and Nepal's poor, who have been hardest hit by the second COVID-19 wave in these two countries.
India is currently overwhelmed by a second wave of coronavirus infections, putting the health care system on the brink of collapse. Nearly 400,000 new cases have been identified in the past 24 hours and around 3,700 people died from the virus in the same timeframe on Saturday, which represented the largest increase on record in one day, bringing the total toll to more than 215,000 deaths.
"What we need most are food and basic medical supplies, including oxygen cylinders, oximeters, thermometers and protective masks. "Medical kits" that work like first aid kits", noted Anuradha Mohanty, Director of AEIN's partner PECUC in Odisha, in eastern India.
Nepal, which shares an open border of over 1,800 km with India, has also been hit hard by this second wave. The Nepalese health system, which was already very fragile before the crisis, is crumbling under the number of patients and the lack of hospital beds, oxygen, medicine and health workers. The small Himalayan state has seen more than 7,000 new infections in one day, with a positivity rate of over 39%.
AEIN, which has been carrying out development work in India and Nepal for almost 55 years, have focused their efforts on supporting those who have been worst-hit by the coronavirus crisis. They are working with eleven partners in five Indian states and sixteen districts in Nepal to provide those in need with the means to be healthy and financially secure during this difficult situation. The non-profit's initiatives include:
the purchase of oxygen cylinders and oximeters;
the distribution of "medical kits", hand soap, masks, gloves and sanitiser to families and personal protective equipment (PPE) to health centres;
funding medical consultations for the most disadvantaged and raising awareness about vaccination, social distancing and good hand hygiene in villages and through a radio programme in local languages;
providing food and rations for children, tribes, women and families without an income and / or who have tested positive for COVID-19;
assisting poor farmers with their harvest of fruits and vegetables and in the transportation of their produce;
funding essential emergency relief to respond to rapid changes on the ground.
Anyone wishing to support these efforts can make a donation via bank transfer to the account CCPL LU03 1111 0367 5084 0000, with the reference "Covid-19", or online at www.aein.lu/faites-un-don/.
For further details, contact AEIN via email: info@aein.lu or via tel.: 472-155.