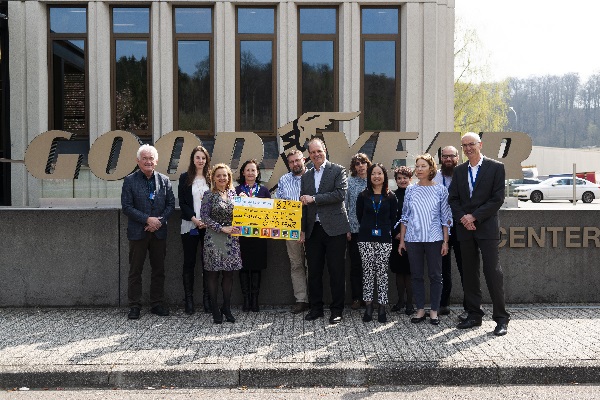 Credit: Goodyear; SOS Villages d'Enfants Monde
Goodyear Luxembourg has donated €8,234 to SOS Villages d'Enfants Monde to help displaced children from northern Iraq.
Goodyear Luxembourg has been a partner of SOS Villages d'Enfants Monde for 16 years. Recently, Carlos Cipollitti, Vice President of Product Development EMEA, Josy Blum, Production Manager of the tyre factory at Goodyear Luxembourg, and the Associate Engagement Team presented the association with a cheque for €8,234.
This sum will be allocated to the association's programme set up in northern Iraq to support some 1,400 young people in the long and difficult reconstruction process. Many of these youths still live in internally displaced person (IDP) camps.
Three representatives of SOS Villages d'Enfants Monde attended this ceremony, including director Sophie Glesener, head of partnerships Anne Schweizer and head of programmes Laurence Wangla, who recently undertook a mission in Iraq. The latter presented the different components of this programme focusing on mental health, psycho-social support and resilience, as well as on the Teaching Recovery Techniques created for young people who have had the traumatic experience of war.
The funds raised in 2018 by Goodyear Luxembourg resulted from several actions. As in the previous year, the Associate Engagement Team produced a calendar for 2019 based on the drawings of the 152 children of the company's employees who took part in the 120 Years of Goodyear contest. The sale of this calendar together with a raffle and auction raised the €8,234 for children in northern Iraq.