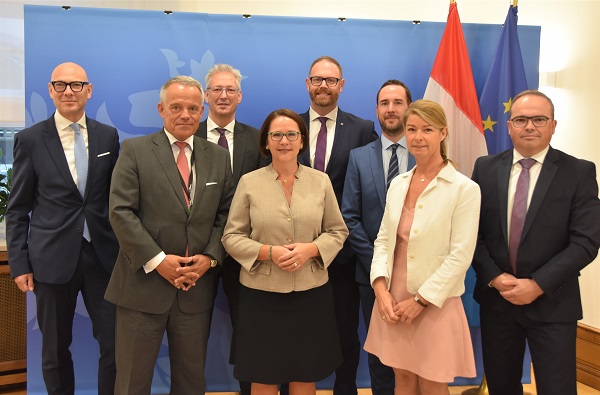 L-R: Geroges Heinrich (Banque de Luxembourg); Guy Hoffmann (ABBL); Laurent Wehles (BCEE); Finance Minister Yuriko Backes; Jeffrey Dentzer (BIL); Marc Geib (ING); Anne-Sophie Dufresne (BGL BNP Paribas); Laurent Zahles (Raiffeisen); Credit: MFIN
Luxembourg's Ministry of Finance has announced the launch of the State-guaranteed loan scheme for businesses in the context of the war in Ukraine.
On Wednesday 27 July 2022, Luxembourg's Minister of Finance, Yuriko Backes, and representatives of the banks BCEE, BIL, BGL BNP Paribas, Banque de Luxembourg, Raiffeisen and ING, signed, in the presence of Guy Hoffmann, President of the ABBL, an agreement governing the system of loans guaranteed by the State set up by the law of 15 July 2022 in favour of the Luxembourg economy in the context of the Russia-Ukraine war.
This scheme was announced following the meetings of the Tripartite Coordination Committee in March 2022 as part of the "Solidaritéitspak" (solidarity package). It aims to meet the liquidity needs of companies affected by the consequences of the war in Ukraine, in particular the substantial rise in the prices of raw materials and energy, by ensuring that banks continue to grant loans to the real economy.
Through this scheme, companies of all sizes can claim new loans for a maximum period of six years and the amount of which can amount to 15% of the company's average annual turnover for the last three years, or 50% of the company's energy costs over a twelve-month period. The State guarantees 90% of the nominal amount of the loans granted, up to €500 million.
Minister Backes commented: "The government is supporting businesses to deal with the economic impact of Russia's unwarranted and unjustifiable war against Ukraine. The guaranteed loan scheme has proven itself during the COVID-19 pandemic. Today, the Luxembourg banking sector once again demonstrates its commitment to contributing to solutions to overcome the crises facing the country".