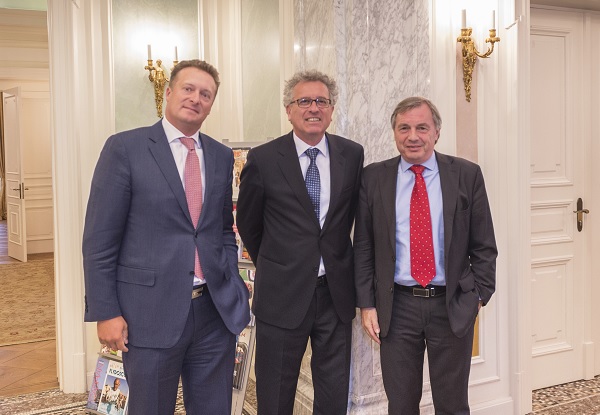 On Monday 23 May 2016 Luxembourg's Minister of Finance, Pierre Gramegna, and LFF Counsellor in Communications, Bob Kieffer, visited the East-West United Bank at the historic Villa Foch that impressed the guests with its recently restored interior.
Several topics were discussed during this visit which include a lunch prepared and served by Rosell Traiteur. The captivating energy and expressiveness of Minister Gramegna spiced up the discussion, bringing to it vital and prolific vibes. The topics of the meeting included the global geopolitical situation, the economic situation in EU, Brexit, sanctions, etc. The Minister spoke about Luxembourg economy, the stability of its financial and banking sectors, new perspectives coming from development of Fintech and virtual currencis.
The Management of EWUB was represented by Jeannot Krecké, Chairman of the Board, Sergey Pchelintsev, CEO and Managing Director, Martin Pcola, CFO and Managing Director, accompanied by Anna Radishevskaia, Director of Corporate Communications Department. They explained the new strategy of the Bank focused on development of Private and Corporate Banking. The Minister was interested in the profile of existing and potential customers of the Bank and their reasons for coming to Luxembourg.
Photo (L-R): Sergey Pchelintsev, Pierre Gramegna, Jeannot Krecké