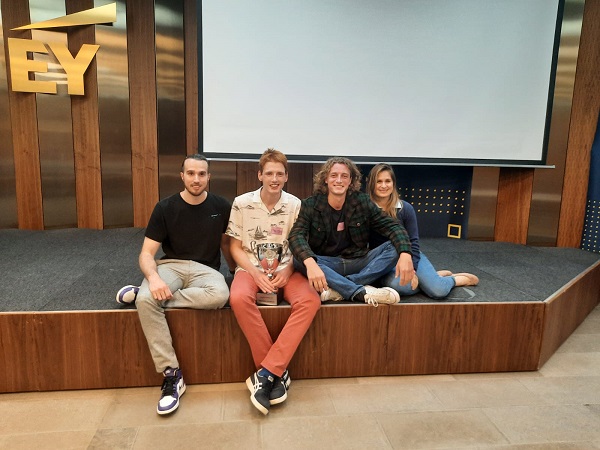 Winners: ANote Music; Credit: Agnes Turksma / Chronicle.lu
Organised worldwide by Pegasus Tech Ventures, Luxembourg's final round of the Startup World Cup unfolded on Thursday 9 June 2022 during a decisive event hosted on EY's premises in Luxembourg-Kirchberg.
Among the ten finalist startups, ANote Music has been selected as the most promising by a jury composed of venture capitals (VCs) and tech entrepreneurs. The second place was attributed to Food4All and third place to WEO. ANote Music will be facing more than 70 worldwide competitors in the next round, taking place in Silicon Valley, this autumn. The startup will also be given the opportunity through selected events to meet and exchange with the local startup ecosystem.
The ten finalists who had been selected among all applicants by a collaborative committee two weeks ago were well prepared to pitch thanks to a coaching and rehearsal session organised by the House of Startups prior to the event.
The jury, composed of Hans-Juergen Schmitz (Mangrove Capital Partners), Dara Nikolova (Angel investor and finance professional), Genna Elvin (Tadaweb) and Keith Hopper (Edenholm Hopper Services, Neil Ward & Associates) based their evaluation on the following criteria: the solution itself, problem-solving ability, market and traction, competitive advantage, business case, sustainability, strength of the team, overall pitch and presentation.
Justin Jackson, Partner of Pegasus Tech Ventures and Executive at Startup World Cup, provided a glimpse of what the winning startup can expect in San Francisco this September through his keynote on the evolution of Startup Worldcup and the opportunities presenting to the participating entrepreneurs.
ANote Music was founded in Luxembourg by Marzio Schena, Matteo Cernuschi and Grégoire Mathonet in January 2018 with the aim of bridging the gap between the music industry and the financial markets – creating a win win situation for music fans, creators and investors. At present, the total amount raised by the company stands at over €1.5 million.