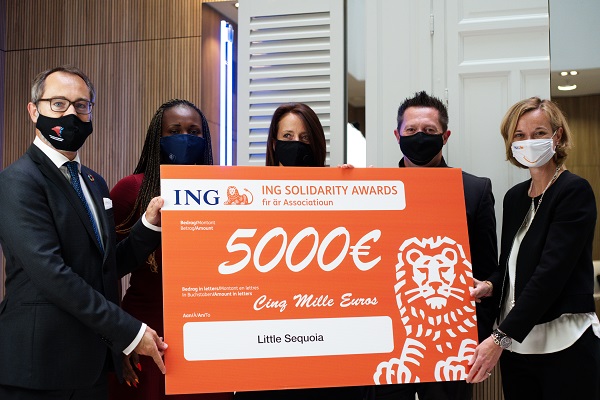 One of this year's winners: Little Sequoia; Credit: ING
On Wednesday 30 June 2021, four non-profit organisations stepped on stage to receive prizes for the 9th edition of the ING Solidarity Awards held at ING Lux House in Luxembourg-Gare.
Despite the ongoing pandemic, ING chose to maintain its ING Solidarity Awards and highlight the projects of Luxembourg associations that work tirelessly for the common good.
As every year, ING's objective was to support and promote the Luxembourg non-profit scene, which often still lacks the funds and resources to achieve its objectives. A total of 43 non-profits applied for the ING Solidarity Awards 2021.
This 9th edition focused on two categories that directly reflect ING's social and environmental commitment. Participating associations could submit a project in one of the following two categories:
Financial Inclusion: projects working to improve the financial condition of individuals, for example through education or social and economic integration;

Environmental protection: projects working for example on biodiversity, the circular economy, climate change mitigation or pollution reduction.
All projects were evaluated by an independent jury consisting of three ING staff members and four external members.
Winners by category
1) Financial inclusion
Little sequoia
This non-profit, active in Rwanda, set up a sewing workshop for young mothers who have dropped out of school, with the goal of giving them a chance to receive professional training. About 20 girls aged 13 to 18 are helped each year and receive a one-year sewing training course. The project consists in purchasing sewing machines that recent graduates can borrow while they set up their own business.
CARE Luxembourg
CARE's mission is to address the underlying causes of poverty and social injustice and bring about lasting changes in the lives of poor and vulnerable people. CARE Luxembourg's PARESAN project aims to strengthen food and nutrition security in the Wadi-Fira province of Chad. The project helps vulnerable households, especially women and girls, who are often marginalised. The goal is to help women achieve a high level of self-determination and financial independence through an established financial inclusion mechanism.
2) Environment
Luxembourg-Romania
The main goal of this non-profit is to maintain a close relationship between the two countries. The winning project will help a small, fourth generation, family-owned company of beekeepers saving honeybees from extinction. The association wants to plant an orchard and set up a mobile container with beehives.
Friendship Luxembourg
This association works to preserve mangroves in Bangladesh. This country is very vulnerable to floods, tropical storms and cyclones, the frequency and intensity of which are increasing due to global warming. As a result, many mangroves have disappeared over the last few decades. Mangroves play an essential role in coastal regions. The Friendship project aims to restore these mangroves in a defined area of nine hectares by replanting different species of trees and raising awareness among the local population about mangrove protection.
Each winning association received a cheque for €5,000 to carry out their project.
Delphine Berlemont, Human Resources Director of ING, commented: "We are very happy to have hosted the ING Solidarity Awards again this year and to reward these Luxembourg non-profits whose projects stand out in the fields of environmental protection and financial inclusion, two themes that are at the heart of our ING culture".