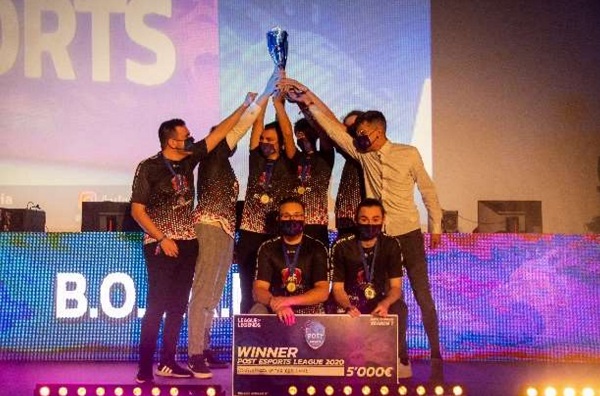 BOTRL, winners of the League of Legends finale; Credit: POST Luxembourg
POST Luxembourg has unveiled the winners of the country's first league dedicated to video games, the POST eSports League, and confirmed that the event will return with a second edition in 2021.
After the high-level finals and a unique show that took place throughout the weekend, Brotherhood of the Red Lion (BOTRL), TORTEL (Clash Royale) and xFabinho (Fifa) now sit at the top of the esports scene in Luxembourg and its Greater Region!
The first season concluded with the POST eSports League Finals at Kinepolis in Luxembourg-Kirchberg, where the largest cinema hall in the complex was custom-fitted to host the event. Although the show was held behind closed doors due to the current health situation, all of the finals were broadcast live on Twitch and PostTV.
During the award ceremony, Cliff Konsbruck, Director of POST Telecom, explained: "The success of this first season of the POST eSports League confirms the potential of eSports in Luxembourg and in the Greater Region. As the leading telecom operator in Luxembourg, POST contributes with its Network of the Future to the development of this discipline of eSport, and gaming in general, which requires ultra-high speed bandwidth and very short latencies".
Results
In the League of Legends Grande Finale, BOTRL was victorious over opponents Outplay eSports. Their rivalry started in the qualifiers last March. Whilst Outplay started out as the favourite, BOTRL secured a surprise win in the finals. As 1st place winner, BOTRL received €5,000; in 2nd place, Outplay won €2,500, whilst 3rd and 4th place winners Corona Difference and RFE Kneppel Club received €1,000 and €750 respectively.
The winners of the Clash Royal Grande Finale was TORTEL, who defeated KRYPTO (Ouplay eSports) after an intense match. TORTEL won €1,500, whilst KRYPTO, in 2nd place, received €900; 3rd and 4th place winners Berry and Orange won €600 and €400 respectively.
It was xFABINHO (Outplay eSports) who was victorious In the FIFA20 Grande Finale, after two suspenseful matches against Fuoriclasse (Helios Gaming). xFABINHO secured the €2,000 prize money, whilst Fuoriclasse, in 2nd place, took home €1,500; in 3rd and 4th place, Shadoow (Standard de Liège) and LXB FIFA (Outplay eSports) received €1,000 and €700 respectively.
The POST eSports League is set to return with a second edition next year - more details to follow.