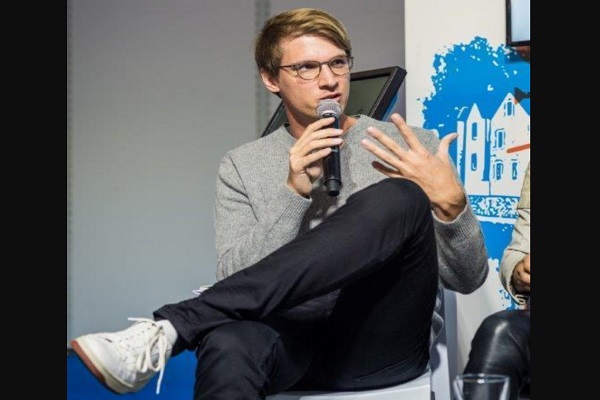 Samuel Hamen at Frankfurt Book Fair in 2018; Credit: Mike Zenari / MCULT
Luxembourgish writer Samuel Hamen has been chosen as the winner of the "adult authors" category of this year's National Literary Competition; this year's chosen genre was the novel.
The jury of the 2019 National Literary Competition, composed of Jérôme Jaminet (president), Fabienne Gilbertz, Ludivine Jehin, Marcel Kieffer and Jay Schiltz awarded first prize in the "adult authors" category to Samuel Hamen's "I.L.E.", whilst Antoine Pohu's "La Quête" took first prize in the "young authors aged 15-25" category.
The jury described Samuel Hamen's Luxembourgish winning Luxembourgish-language novel "I.L.E." as follows: "In a sovereign and creative language, the author strikes a refined plot in which he digs up relevant topics (ecology, genetic engineering, disinformation and manipulation). In doing so, elements of the crime novel are linked to dystopian literature and, in part, to scurrilous and ambiguous characters. For the jury, this will result in an equally entertaining and literary and compelling novel".
Second prize in the "adult authors" category went to Olivia Katrandjian's "The Ghost Soldier", followed by Anja Di Bartolomeo's "Wundholz" in third place.
Speaking about Antoine Pohu's French-language novel "La Quête", the jury said: "The author of La Quête proves a great stylistic maturity. He tells fluently, playfully and with great intensity a double initiation story of a writer on the quest for inspiration and of two orphans on an unlikely odyssey to himself".
The official presentation of the 2019 National Literary Competition Awards will take place on Wednesday 4 December 2019 at 19:30 at the Centre national de littérature (CNL) in Mersch.
Created in 1978 by Luxembourg's Ministry of Culture, the National Literary Competition aims to encourage literary creation in the Grand Duchy. Each year the competition has a different subject, with the coming year focusing on poetry.