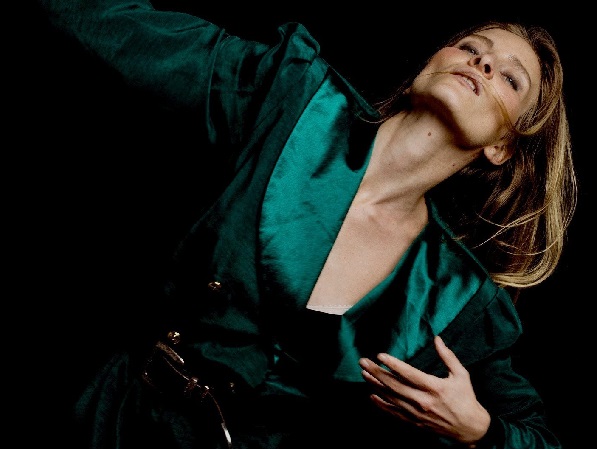 Jill Crovisier, dancer and choreographer; Credit: Varvara Kandaurova
Choreographer and dancer Jull Crovisier has won this year's Lëtzebuerger Danzpräis 2019, a biennial award granted by the Luxembourg Ministry of Culture.
On 28 May 2019, the Lëtzebuerger Danzpräis jury selected Jill Crovisier as the winner of the Lëtzebuerger Danzpräis 2019, for which she received a prize of €5,000.
The jury commented: "The laureate convinced the jury unanimously with the quality and consistency of her multidisciplinary artistic approach. National and international outreach and success demonstrate her remarkable determination".
Under the chairmanship of Christiane Eiffes, Vice-President of the TROIS CL Choreographic Centre of Luxembourg, the jury was composed of Natascha Ipatova, DanceXperience ASBL, Tom Leick-Burns, Director of Théâtres de la Ville de Luxembourg, Simone Mousset, winner of the 2017 Lëtzebuerger Danzpräis and Marie-Laure Rolland, journalist.
The official presentation of the prize will take place at 19:00 on 3 July 2019 at the TROIS C-L, in the presence of Minister of Culture Sam Tanson.
Since 2011, the Ministry of Culture has been awarding the Lëtzebuerger Danzpräis to a young dancer or choreographer who has distinguished himself or herself in the field and can already claim international attention for at least one performance. This prize aims to encourage contemporary choreographic creation or the artistic merit of a young dancer in the Grand Duchy.
This year's winner, Jill Crovisier, completed her classical and contemporary dance training at the Music Conservatory of Esch-sur-Alzette before joining the China EU Art School in Beijing, organised by the British Council of Arts in 2005. She was a member of the Weis Dance Company at age 18 and continued to study dance in France, New York, Israel and Indonesia. In 2009 she obtained her state diploma of dance teacher.
In 2018, Jill Crovisier created SIEBEN for seven dancers. She is currently the artistic director of the Luxembourg-based JC movement production and has been awarded the FOCUNA Fellowship for the UferStudios 2018 summer residency in Berlin. In 2018/2019, she was also the guest choreographer of the company B.Dance in Taiwan for the creation of NO MANS 'LAND and joined a residence at the FMK Black Box in Vientiane, Laos.
In January 2019, Jill Crovisier received an honorary award from the City of Rumelange for her outstanding achievements as a dancer and choreographer. This year, she is part of the Loop exhibition in Rotondes, Luxembourg, where her short film D A N S is being screened next to renowned video artists. Finally, Jill Crovisier will work as a choreographer at the Folkwang Universität der Künste, Institut für Zeitgenössischen Tanz in Germany for a custom performance in 2020.