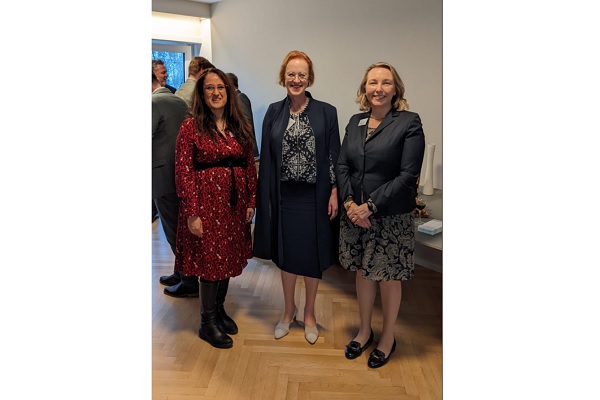 ANZCCL's March 2022 event with Australian Ambassador Caroline Millar (centre); Credit: ANZCCL
With 2023 now underway, Chronicle.lu reached out to the Australia and New Zealand Chamber of Commerce Luxembourg (ANZCCL), speaking with co-chairs and founding members, Maya Joshi and Tony Whiteman, to learn about the chamber's 2022 highlights and its plans for the new year.
Chronicle.lu: At the start of 2022, you shared with us how ANZCCL had been affected by the COVID-19 pandemic and how it had adapted to this situation. Was ANZCCL able to return to 100% in-person events in 2022? Or did you perhaps opt for a hybrid (or 100% virtual) format?
Maya Joshi & Tony Whiteman: It was a gradual upwards trend in 2022 - we now know we are able to rely on conditions for in-person events to take place, but we are still holding the occasional event via Zoom, which allows us to take advantage of having speakers who aren't in Luxembourg. Our event with satellite operator SES [in October] was a great example of this.
Chronicle.lu: What were some of the highlights at ANZCCL in 2022?
Maya Joshi & Tony Whiteman: In March: an evening with the Australian Ambassador, Caroline Millar. In June: an evening with the New Zealand Ambassador, Diana Reaich. In October: a Zoom presentation by SES on their operations in the South Pacific area.
Chronicle.lu: Did the end of COVID-19 restrictions in Luxembourg impact the number of ANZCCL members and/or events?
Maya Joshi & Tony Whiteman: We saw a definite uptick in people wanting to come to events once restrictions were relaxed. We still had some challenges with events whilst some restrictions were in place but on the other hand, it feels to us like people now place more value on face to face events and on networking organisations like ours.
Chronicle.lu: What does 2023 have in store for ANZCCL and its members?
Maya Joshi & Tony Whiteman: Our first event is a multicountry collaboration for Australia Day / Waitangi Day! We are meeting in an Australian-themed restaurant in Diepenbeek, Belgium, which is around two hours from Luxembourg, and our colleagues from partner organisations in Belgium and the Netherlands are joining. Email us on hello@anzccl.lu for more details.
We are also holding a key event with the Australian Embassy discussing the Free Trade Agreement (FTA) between Europe and Australia in early March. After three years of postponement, we're finally looking forward to holding a dinner for 26 April for the annual ANZAC remembrance day. We will look to have additional events later in the year.