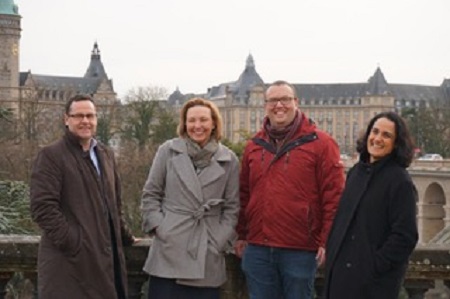 ANZCCL board members (L-R): Tony Whiteman; Monque Bachner; Richard Russell; Maya Joshi (absent: Genna Elvin; Richard York); Credit: ANZCCL
Chronicle.lu recently got the opportunity to speak with Maya Joshi, co-chair and founding board member of the Australia and New Zealand Chamber of Commerce Luxembourg (ANZCCL), and Monique Bachner, co-founder of ANZCCL, about the impact of the COVID-19 pandemic on the chamber's activities and how ANZCCL sees itself this new year.
Chronicle.lu: How has ANZCCL been affected by the pandemic over the past almost two years? How has event organisation been impacted by the restrictions?
Maya Joshi & Monique Bachner: The biggest impact on us is one we've got in common with many others - we've had to stop holding in person events. We miss them dearly! It's also very difficult to plan ahead with any certainty.
Chronicle.lu: How did ANZCCL adapt to this "new normal"? Did the team switch to remote working?
Maya Joshi & Monique Bachner: On this front we have a real plus - we are part of the Australian Business In Europe (ABiE) network, which brings together a number of business organisations like us across Europe. We have been able to offer our members a number of great seminars from across the network, and to access quality participants in Australia for what would have been in-person only before the pandemic struck. This collaborative support across ABiE has been a real help and we are lucky to have a support network like it.
Chronicle.lu: What have been some of the challenges but also perhaps opportunities associated with (or lessons learned from) the pandemic?
Maya Joshi & Monique Bachner: Our goal is to connect the Luxembourg and Australia / New Zealand business communities. One real challenge to that connection is the fact that Australia and New Zealand are still not fully open for travel after nearly two years. On the plus side, people have learned to do a lot more via Zoom and remotely, but we are looking forward to seeing Australia and New Zealand be able to re-open fully for all international visitors as the ability to visit a place in person still remains an important part of making connections.
Chronicle.lu: In what way will / have the latest government measures affect(ed) ANZCCL?
Maya Joshi & Monique Bachner: We had been planning an Australia Day [Australia's national day, celebrated on 26 January] / Waitangi Day [New Zealand's national day, 6 February] get-together to start off the year and a return to events. We've decided to postpone and see how the situation pans out towards the end of January.
Chronicle.lu: Where does ANZCCL see itself this year, both regarding the pandemic and generally?
Maya Joshi & Monique Bachner: We are a relatively young chamber; we'd like this year to be the year we grow our membership and regain momentum with in-person events.
On an issue specific to Australia, we hope that finalisation of a Double Tax Treaty between Luxembourg and Australia is very likely this year, which would result in a large ramp up of events around trade and investment opportunities, especially regarding core Luxembourg expertise such as investment funds, fintech, space and research given the strong focus in both countries on these areas.
Chronicle.lu: Approximately how many events do you expect to hold this year? What are your current expectations concerning the percentage split between in person, remote and hybrid events?
Maya Joshi & Monique Bachner: That's so hard to say right now! We are taking it quarter by quarter and at present we would like to aim for a dinner on Anzac Day [a national day of remembrance in Australia and New Zealand, observed on 25 April] if circumstances allow. We do see remote events continuing this year though, especially as there are still barriers to speakers travelling to / from Australia and New Zealand.
Ms Joshi concluded on a hopeful note: "We're hoping 2022 is the year we can finally see borders open up with certainty and we can start to reconnect in person".