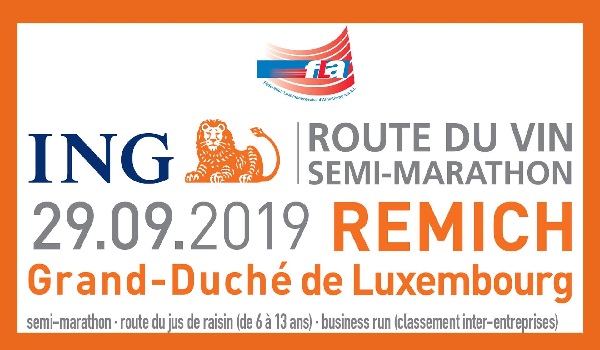 Organised by ING Luxembourg and the Luxembourg Athletics Federation (FLA), the 58th ING Route du Vin half-marathon will be held on Sunday 29 September 2019 from 15:00, in the south-eastern town of Remich.
The race will start and end on the Remich Esplanade. Participants will pass Wormeldange before returning to Remich along the Moselle river. The finish line will be located once again in the Dr. Fernand Kons square in Remich. Drinking water will be provided every 5km along the race.
Participants have a total of two hours and 30 minutes to complete the race. The event also offers children's races as well as a "Duolaf" option where teams of two split the race (the first completes 10km and the second completes 11km).
The entry fee for individuals starts from €29. The full price list (including group discounts) is available at http://www.routeduvin.lu/en/17/info/half-marathon/. To enter the race, transfer the fee either online after registration or via bank transfer to the Luxembourg Athletics Federation's account: ING IBAN LU59 0141 9498 6310 0000 (BIC: CELLLULL). Cheques will not be accepted. Registration is open until 20 September 2019.