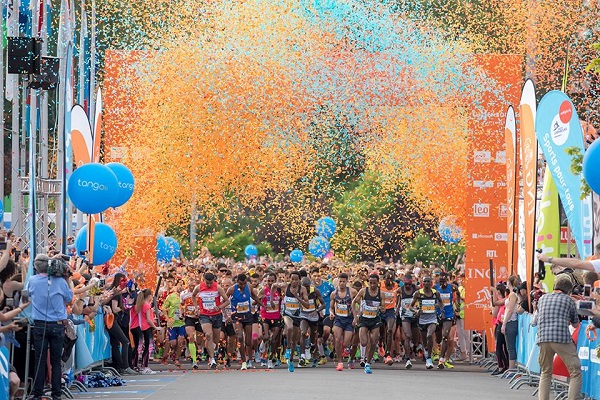 Mark Kangogo is the winner of the ING Night Marathon Luxembourg - the Kenyan has improved the course record, set by his compatriot John Komen in 2016, by no less than 47 seconds; the 13th edition of the ING Night Marathon Luxembourg of 12 May 2018 was also a success from a Luxembourg point of view.
Mark Kangogo had the feeling beforehand that a beautiful day was waiting for him. "Before the start, I told my friends `I will celebrate today`" he said after crossing the finishing line of yesterday evening's marathon. Nobody had bet on this Kenyan who was born in 1989 and who had won three semi-marathons and finished second in 2017 in San Sebastián in Spain in 2:14:33. Kangogo agreed when saying "I had bib #12, I do not think anyone was waiting for me as winner.".
A Kenyan not only won the race, he also improved the course record by 47 seconds in a total time of 2:12:10. Kangogo said afterwards "I am very happy. There were many climbs and turns. I did my best. I will come back next year."
A third victory in the Grand Duchy was the goal of Kenyan John Komen, winner in 2015 and 2016. This former football player (born in 1977), whose talent in running was only discovered later on, was determined to win a third victory in view of his record of 2:12:57 set in 2016. But as in 2017, Komen had to settle for second place in 2:13:35. This did not stop him from joking with his fellow countryman Kangogo on the podium after the finish, congratulating him and keeping his sporting spirit on the second place: "I feel good, I'm happy. This was my fourth participation in Luxembourg, I will come back to win".
Race director Erich François welcomed the announcement: "Good idea! Let him come back! John Komen will always be welcome here. Certainly, he is not the youngest, but he has the most experience - a real advantage over this demanding course."
Hosea Kikpemboi (born in 1989, finishing in 2:17:11), also Kenyan, finished third. He finished second at the ING Night Marathon Luxembourg in 2015. Frazer Alexander (born 1981, finished in 2:43:15) was placed 9th overall and was the fastest from Luxembourg He thanked the many spectators for their encouragement: "Everything was perfect today. The atmosphere in downtown was exceptional."
On the women's side, Ethiopia's Lakelesh Feysa Dera (born in 1998) finished with a time of 2:51:33 put an end to Kenyan dominance. She has just turned 20 and has been victorious in two marathons victories in China in 2017. She had to face more than 300 metres of unevenness: "It went up and down constantly, which made the race more difficult. If there had not been so many climbs, I would have crossed the finish line with a better time. But I am satisfied and I will be happy to come back to Luxembourg," she said. Poland's Karolina Wasniewska (born 1980, finished in 3:06:52) was in second place with Isabelle Hoffmann (born in 1984), the best-placed Luxembourger, third in 3:25:16.
As for the half marathon, Luxembourg participants finished on the second step of both podiums. In men, victory went to Semere Fsehatsion (Eritrea, born in 1983, finished in 1:11:29) in front of Yannick Lieners (Luxembourg, born in 1988, 1:13:16) and Hissam Aissa (France, born in 1984, 1:13:36). In the women's half-marathon, Anna Herzberg (Germany, born 1987, 1:22:01) was the fastest, ahead of Liz Nepper (Luxembourg, born 1988, 1:26:18) and Michelle Bauer (Germany, born in 1989, 1:30:27).
With 16,000 registered runners, aged from 18 months to 85 years, the ING Night Marathon Luxembourg, which was complete since March, has set a new record for participation. Participants from 111 different nationalities from 45 countries also included Dirk Pretorius (48) from Erftstadt-Bliesheim in North Rhine-Westphalia. Pretorius was participating as a pace leader for a time of 4:29. An unforgettable race for him because it was his 150th marathon. "It gives me great pleasure to share my hobby and passion with others and to share my beginner's racing experience," said Pretorius.
Barely an hour and a half later, around 01.16, the last runners crossed the finish line, including Pamela (36) from Chartres. "It was my first marathon, it was magic. I cried with joy," she said, before hugging her cheerleader Melanie Zender, because "she was so important to me." For the 41-year-old Swiss, it was also an intense experience: "I was able to encourage Pamela to stay on course because she almost gave up at one point. I am very happy that we were able to cross the line together". It is precisely these moments that still fascinate Erich François, race director, who said "The participants are satisfied, they laugh and cry on arrival - all that is expected of a marathon! "
Top 3 Marathon Men
1. Mark KANGOGO (Kenya, born 1989), 2:12:10
2. John KOMEN (Kenya, born 1977), 2:13:35
3. Hosea KIPKEMBOI (Kenya, born 1989), 2:17:11
Top 3 Marathon Women
1. Lakelesh Feysa DERA (Ethiopia, born 1998), 2:51:33
2. Karolina WASNIEWSKA (Poland, born 1980), 3:06:52
3. Isabelle HOFFMANN (Luxembourg, born 1984), 3:25:16
Best Luxembourgish
Men: Frazer ALEXANDER (born 1981), 9th, 2:43:15
Women: Isabelle HOFFMANN (born 1984), 3rd, 3:25:16
Top 3 Semi-marathon Men
1. Semere FSEHATSION (Eritrea, born 1983), 1:11:29
2. Yannick LIENERS (Luxembourg, born 1988), 1:13:16
3. Hissam AISSA (France, born 1984), 1:13:36
Top 3 Semi-marathon Women
1 Anna HERZBERG (Germany, born 1987), 1:22:01
2. Liz NEPPER (Luxembourg, born 1988), 1:26:18
3. Michelle BAUER (Germany, born 1989), 1:30:27