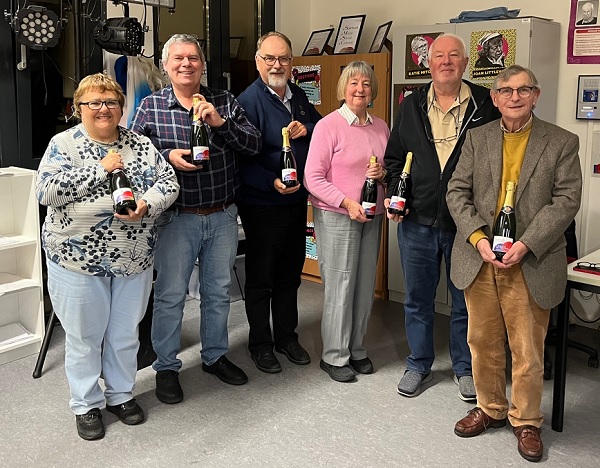 Death by Music wins St George's Charity Quiz;
On Friday 18 November 2022, St George's International School in Luxembourg-Hamm hosted a Charity Quiz Night and Chili Supper.
Organised by the Friends of St George's, the proceeds of the evening (€20 entry/person, plus bar sales) are going towards the Lauren Patterson Memorial School in Uganda and the 2023 Relais pour la Vie St George's fundraising.
A total of eight teams of six participated, with Kerry Tranter directing proceedings. School Director Dr Christian Barkei spoke during the event and thanked all those involved in the organisation of the event. He also explained that even small funds can make such a considerable difference to schools in developing countries.
There were a total of eight rounds, with Luxembourg, Sport, History (specifically events that happened 100 years ago, in 1922), Food & Drink, Birds and the European Union. For these rounds, the teams had a few minutes to write their responses on the answer sheets provided. The other two rounds were a bit different: the first, a Picture round of 21 cartoon characters, also required the answers to be written; however, the time allowed for this round was almost half the quiz.
The remaining round, on Languagues, was played using Kahoot! on iPads provided to each team. All 25 questions were multiple choice and the faster one responded (with the correct answer, of course), the more points one was awarded.
Half-way through, food was served. A number of different pots of home-made Chili were provided, including vegetarian options, with brownies for dessert. All were prepared by the Friends of St George's.
Going into the final round, Jacob's Crackers were topping the leaderboard, but Death by Music pipped them to the post, winning by one point with a score of 82. Third was Miles' Crew on 75 points. Second-place team members received large bars of Cadbury's chocolate and the winning team members were presented with St George's crémant from Bernard-Massard.