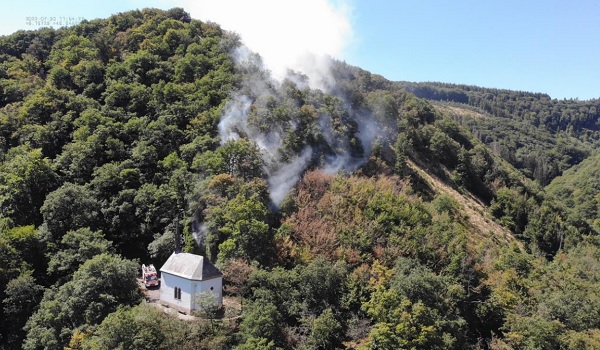 Credit: CGDIS
The Grand Ducal Fire and Rescue Corps (Corps grand-ducal d'incendie et de secours - CGDIS) has reported that a wildfire broke out near Vianden in north-eastern Luxembourg on Saturday morning.
Shortly before 11:00 on Saturday 30 July 2022, the 112 emergency call centre (Central des secours d'urgences - CSU) received reports of smoke development in a forest between Bivels and Vianden, near the Bildchen chapel.
The emergency call centre immediately dispatched three fire engines, two forest fire engines and the special GATO operational technology support group with a drone and a command vehicle. The first teams on site noticed heavy smoke and a rapidly spreading fire in the forest. At the same time, the CGO operations management cente was activated to support the forces on site in the background.
Since the fire was in impassable terrain, the first task of the firefighters was to get a precise overview of the incident and to define the right access points and the assembly point for the forces.
The head of operations immediately called for additional forces with large water capacities to guarantee the fire fighting water supply. Later, fire fighting water was used on the adjacent Our river, which was transported to the site by shuttle service.
The work was divided into several sectors because there was a risk that the fire, which had already spread towards the cable car, would spread towards Vianden.
Extinguishing attempts were successful and the fire was brought under control by 12:10. At around 13:50, the post-extinguishing work began and a fire watch was then organised on site.
A total of around 60 firefighters were involved in the extinguishing work.