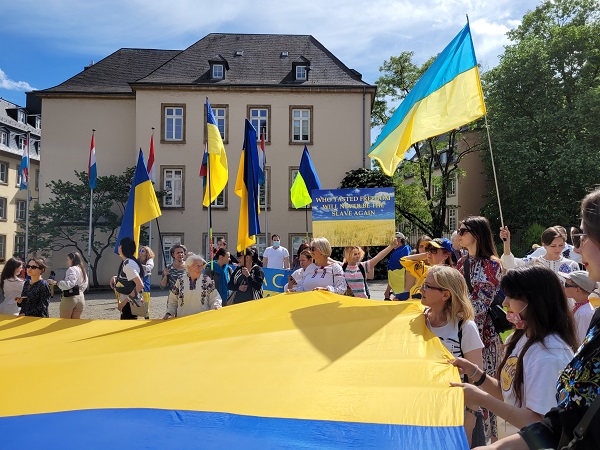 Anti-war protest, organised by LUkraine asbl, in Luxembourg City on 21 May 2022; Credit: Jazmin Campbell / Chronicle.lu
On Wednesday afternoon, the City of Luxembourg (Ville de Luxembourg - VdL) announced its decision to name the new N3 / N40 national road "Boulevard de Kiev".
Although the City of Luxembourg explained that this choice of name was "intended as a symbol of solidarity, commitment and support" on behalf of Luxembourg City to the capital of Ukraine and the Ukrainian people amid Russia's invasion, the decision to use the spelling "Kiev", which is derived from the Russian language (Киев), rather than "Kyiv", derived from the Ukrainian language (Київ) has sparked a public backlash.
Chronicle.lu readers were quick to express their disapproval of this decision, as was LUkraine asbl, a local non-profit organisation representing the Ukrainian community in Luxembourg. Several members of the public and the non-profit referred to the "KyivNotKiev" online campaign launched by the Ukrainian Ministry of Foreign Affairs, together with the fifteen members of the strategic communications centre "StratCom Ukraine", back in 2018. The goal of this campaign is to encourage the exclusive use of the name "Kyiv", mainly among English-language media.
Whilst the name "Boulevard de Kiev" is in French, and Francophone media still tends to use the term "Kiev" to refer to the Ukrainian capital, many Ukrainians reject this spelling in all languages. In fact, the Ukrainian government officially adopted the name "Kyiv" to refer to the capital in 1995.
Inna Yaremenko, Vice-President of LUkraine asbl, explained to Chronicle.lu: "We are grateful to the City of Luxembourg for their initiative and the solidarity, but four years ago Ukraine launched its #KyivnotKiev (and for other cities as well) world campaign in an effort to move away from its Russian-controlled past. And today, it's even more important for us, because language is also power".
Chronicle.lu has reached out to the the City of Luxembourg for comment.