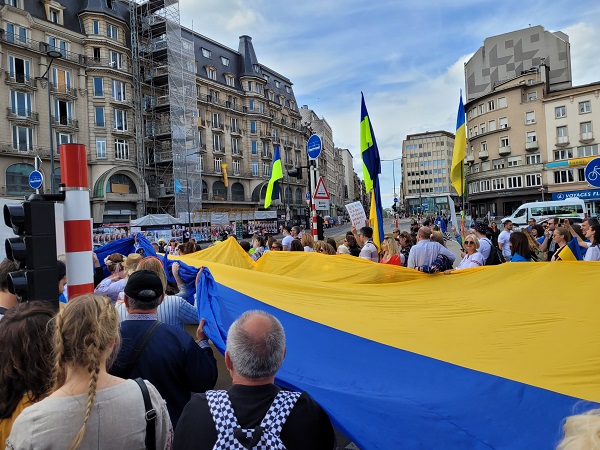 Anti-war protest in Luxembourg-Gare on 21 May 2022; Credit: Jazmin Campbell / Chronicle.lu
The College of Mayors and Aldermen of the City of Luxembourg (Ville de Luxembourg - VdL) have decided to name the new N3 / N40 national road "Boulevard de Kiev", after the Ukrainian capital, Kyiv.
The choice of name is intended as a symbol of solidarity, commitment and support from the Luxembourg capital to the capital of Ukraine and the Ukrainian people in the face of Russia's aggression.
Boulevard de Kiev, which will act as the new gateway to the capital by 2023, will connect Luxembourg's central railway station (Gare de Luxembourg) to the municipality of Hesperange, in particular the Howald district. It will be partially bordered by the tramway and aims to reorganise traffic in the south of Luxembourg City while offering various possibilities to make greater use of soft mobility.
Update: The decision to name the road "Boulevard de Kiev" rather than "Boulevard de Kyiv" triggered a public backlash. Whilst the City of Luxembourg initially defended this spelling choice, it later announced its decision to name the road "Boulevard de Kyiv".