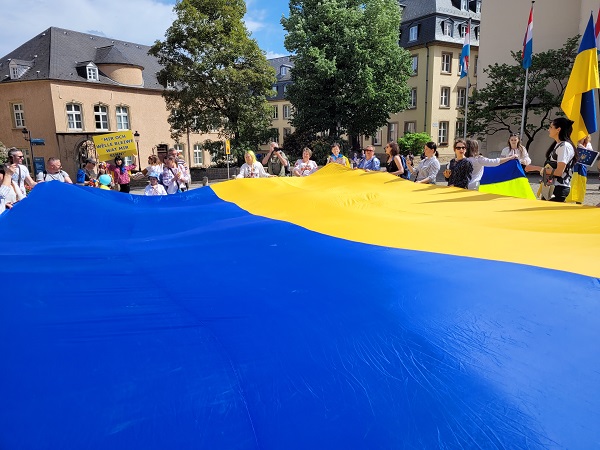 Anti-war protest, organised by LUkraine asbl, in Luxembourg City on 21 May 2022; Credit: Jazmin Campbell / Chronicle.lu
On Wednesday 20 July 2022, the City of Luxembourg (Ville de Luxembourg – VdL) announced the recent decision of its College of Mayors and Aldermen to name the new N3 / N40 national road "Boulevard de Kiev", as a symbol of solidarity with the Ukrainian capital and people amid Russia's invasion of Ukraine.
The news quickly triggered a backlash, however, from several members of the public, particularly among the Ukrainian community in Luxembourg, who disapproved of the decision to use the spelling "Kiev", which is derived from the Russian language (Киев) instead of "Kyiv", derived from the Ukrainian language (Київ).
Chronicle.lu reached out to the City of Luxembourg to learn the reasons behind this choice of spelling. The latter explained that they had chosen the official French name for the Ukrainian capital, which is "Kiev" – as confirmed to Chronicle.lu by the Institut français du Luxembourg. The City of Luxembourg clarified: "In Luxembourg City and on the territory of the Grand Duchy of Luxembourg, all squares and streets are designated by their names in French. The definitive road signs will later contain, next to the French designation 'Kiev', also the Ukrainian name 'Kyiv'". It is thus intended that the road sign will read "Boulevard de Kiev" with "Kyiv" and "Capitale de l'Ukraine" (capital of Ukraine) underneath, as follows:
Boulevard de Kiev
Kyiv
Capitale de l'Ukraine
Luxembourg's Honorary Consul to Ukraine, Claude Radoux, also responded to Chronicle.lu's request for comment on the subject. He expressed his initial surprise at the backlash the decision has triggered, confirming that he, as well as his colleagues in Brussels, were "very happy" that the City of Luxembourg had decided to name the new national road in honour of the Ukrainian capital. Mr Radoux recognised the concerns of those who consider "Kiev" to be the Russian spelling and "Kyiv" to be the Ukrainian spelling but stressed that "Kiev" was the recognised name in the French language. He stated: "It is perfectly legitimate for the City of Luxembourg to follow the line of French names and spellings", particularly in terms of "keeping coherence". In this context, he referred to the fact that "London" is called "Londres" in French, just as "Den Haag" is called "La Haye" in French (and "The Hague" in English), for example.
Nevertheless, members of the Ukrainian community in Luxembourg, whilst grateful for this gesture of solidarity, continue to call on the City of Luxembourg to rethink this spelling choice. Speaking on behalf of LUkraine asbl, the non-profit's Vice-President Inna Yaremenko stated: "First of all, we appreciate Luxembourg standing with Ukraine and supporting our nation in the time of hardship. We understand that there's an issue of French grammar, but we are not talking about a map or a geography schoolbook. For us, it goes much deeper and has a profound symbolic meaning to be able to use Ukrainian names for our cities, and not Soviet colonial ones, especially today, when our people are dying every day from Russian invasion". She added: "This is a much-appreciated gesture of solidarity, so we would be really grateful if the City of Luxembourg would go all the way and use the Ukrainian name for our capital".
Similarly, Evgenia Paliy, President of Ukraine-Luxembourg Business Club asbl (ULBC), told Chronicle.lu: "The Grand Duchy of Luxembourg is demonstrating tremendous support to Ukraine by providing both humanitarian and military aid to Ukraine and also providing help locally to the refugees. Luxembourg is hosting more than 5,000 Ukrainians who were fleeing from war and they feel welcomed and safe. It is such a great initiative to name the new central street in honour of the capital of Ukraine, during these tragic days for Ukraine. We do appreciate the efforts and express our gratitude for the country's solidarity".
"But if still possible, we would like to suggest amending the name 'Kiev' to 'Kyiv' as it is very important for Ukrainian people and I will explain why. 'Kyiv' is an official Latin transliteration of the city's name in the Ukrainian language. It's just about which language you transliterate from – 'Kiev' is from Russian, 'Kyiv' is from Ukrainian. 'Kiev' comes from the Russian way of pronouncing Ukraine's capital name. This spelling became common internationally during the 20th century", Ms Paliy explained. "For Ukrainians today, it is extremely sensitive, as it is associated with so-called 'russification' - banning the use of Ukrainian language, Ukrainian culture in print and other actions by the Russian Empire and Soviet State to strengthen Russian linguistic and political positions in Ukraine. This included promoting Russian over Ukrainian language, which is essentially how 'Kiev' became more popular than 'Kyiv'. Ukraine as an independent state has campaigned for the Ukrainian transcription to be used in English and other languages for a long time. It's the same reason we say 'Ukraine', not 'the Ukraine', 'Zelenskyy', not 'Zelensky'. On a more basic level, we call people by their chosen name, not by what their enemies call them. By adopting 'Kyiv', people are siding with Ukraine against Russia. Using 'Kyiv' as the standard spelling is one small way to show solidarity with Ukraine, to recognise Ukraine's independence from Russia culturally and politically".
Note that whilst the official name for the Ukrainian capital in the French language is "Kiev", this spelling has been the subject of debate among Francophone media recently.