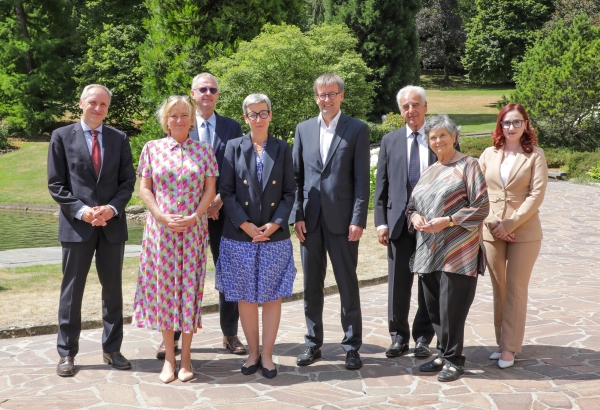 Credit: (c) SIP / Luc Deflorenne
On Friday 15 July 2022, the consultation on the legal regulation of cannabis for non-medical and non-scientific use between Germany, Malta, the Netherlands and Luxembourg took place at Senningen Castle, in the municipality of Niederanven.
The conference began with a general presentation by the Director of the European Monitoring Centre for Drugs and Drug Addiction (EMCDDA), Alexis Goosdeel, on European Union (EU) policies and the most recent data available on cannabis. The representatives of the participating countries then made brief presentations on their respective national situation and the main objectives of the regulations planned in this area.
Thereafter, there were three sessions:
two on international and European law
one on the opportunities and challenges for the scientific assessment of public health and public security policy objectives in the context of international and European law.
At the end of the conference, a joint declaration was adopted by Germany, Malta and Luxembourg. The joint declaration is available online via: https://gouvernement.lu/dam-assets/documents/actualites/2022/07-juillet/15-lenert-tanson-canabis/joint-statement-high-level-consultation-on-cannabis-150722.pdf.
Minister of Health, Paulette Lenert, said: "I am convinced that a paradigm shift is needed in terms of cannabis policy, which must be based on the primary responsibility of adopting a coherent, balanced and evidence, aiming to achieve the most beneficial outcome for society. The adoption of these new public policies, emphasising the prevention and reduction of risks and damage through regulation rather than repression and coercive measures, presents us with new challenges at international and European level, which we addressed constructively during our consultation".
Minister of Justice, Sam Tanson, commented: "Almost half a century after the entry into force of our law establishing the criminalisation of drug-related behaviour, namely the law of 19 February 1973 concerning the sale of medicinal substances and the fight against drug addiction, Luxembourg still pursues a drug policy mainly focused on repression. However, as our statistics show, the failure of this approach cannot be denied, and the time has come to develop a new approach, based on dialogue with the States which have made the same observation and the European and international institutions".