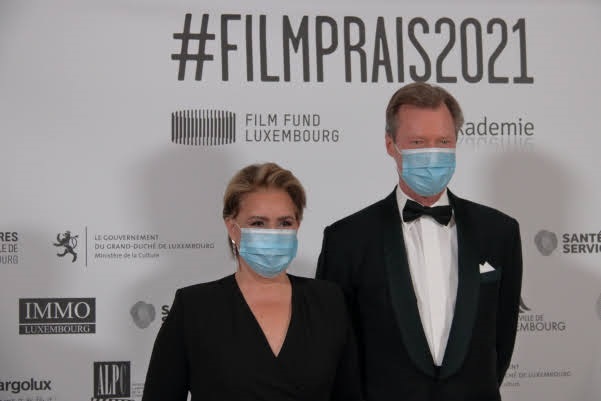 Their Royal Highnesses the Grand Duchess and the Grand Duke at the 2021 Luxembourg Film Prize Awards; Credit: Kangkan Halder
The Grand Ducal Palace announced on Tuesday afternoon that His Royal Highness the Grand Duke of Luxembourg has tested positive for COVID-19.
Following a positive rapid antigen test result on Tuesday 4 January 2022, Grand Duke Henri began self-isolating in accordance with the provisions set by the Health Directorate. A PCR test subsequently confirmed this positive result, meaning the head of state will remain in isolation.
According to the official statement, the Grand Duke is currently showing mild symptoms and will continue to perform his duties.
In light of this positive COVID-19 result, the official departure hearings for outgoing government ministers Dan Kersch, Romain Schneider and Pierre Gramegna, scheduled for Wednesday 5 January 2022, have been cancelled.
The swearing-in of the new ministers Claude Haagen, Georges Engel and Yuriko Backes will take place at the Grand-Ducal Palace as planned, although the Grand Duke will perform this task via videoconference from Berg Castle.