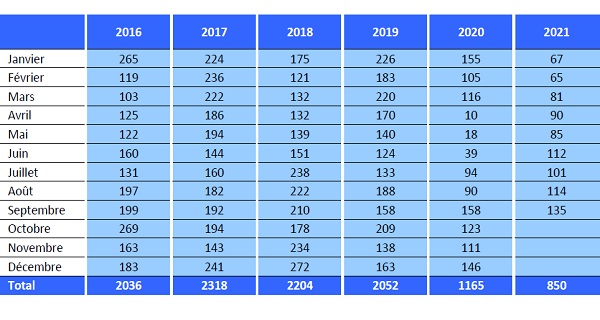 Number of people having applied for international protection; Credit: MAEE
The Directorate of Immigration of the Ministry of Foreign and European Affairs has confirmed that Luxembourg received a total of 135 applications for international protection (asylum) last month.
The number of people applying for asylum in Luxembourg in September 2021 increased from 114 the previous month but fell from 158 in September 2020.
A total of 131 decisions on asylum applications were taken last month, with 78 applicants (compared to twelve in August) being granted refugee status in Luxembourg.
So far this year, Luxembourg has received a total of 850 asylum applications, up from 785 received by this time last year, but significantly lower than the 1,542 received in the first nine months of 2019.
The largest number of applicants seeking asylum in September 2021 came from Syria (24), followed by Eritrea (23) and Afghanistan (21). In addition, eight Iraqi, eight Venezuelan, seven Turkish, six Colombian and six Tunisian nationals applied for asylum. The remaining 32 applications came from various other countries.
Of the 850 applications to date this year, 254 (29.9%) are from Syria, with 184 (21.6%) coming from Eritrea and 67 (7.9%) coming from Afghanistan.