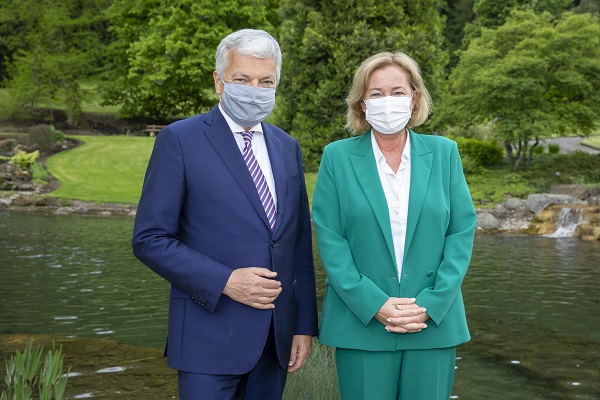 L-R: Didier Reynders, European Commissioner for Justice; Paulette Lenert, Luxembourg's Minister for Consumer Protection; Credit: SIP / Julien Warnand
Thursday marked the 30th anniversary of the European Consumer Centre (ECC) Luxembourg.
Just ahead of the anniversary celebrations, Luxembourg's Minister for Consumer Protection, Paulette Lenert, and the European Commissioner for Justice, Didier Reynders, had an exchange on current issues in the field of consumer protection.
Discussions focused on the new consumer agenda as well as on forthcoming initiatives at European level as well as on steps underway at national level.
The ECC Luxembourg GIE forms part of a network of 30 ECCs in the European Union (EU), Iceland, Norway and the United Kingdom (UK). Created in 1991 under the name "Euroguichet" the ECC Luxembourg has been operating as an economic interest group (GIE) since 2003. It is financially supported by the European Commission, Luxembourg's Ministry of Consumer Protection and the Luxembourg Union of Consumers (ULC).
Its services, which are free of charge, include informing consumers about European consumer law and European policy in this field, advising consumers in cross-border disputes and assisting consumers in their cross-border disputes with a company registered in another EU country, Iceland, Norway or the UK. Further information is available on the ECC Luxembourg website: cecluxembourg.lu.