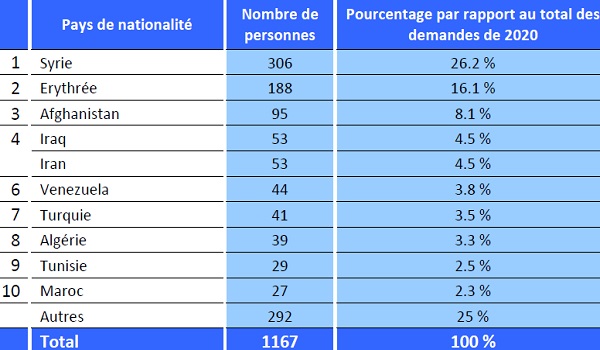 Country of nationality of applicants for international protection in 2020; Credit: Directorate of Immigration
The Directorate of Immigration of the Ministry of Foreign and European Affairs has confirmed that Luxembourg granted a total of 736 asylum seekers refugee status in 2020.
In total, 1,167 people applied for international protection (asylum) in Luxembourg last year. This represents a considerable decrease compared to the previous five years (more than 2,000 annual applications from 2015 to 2019); in 2019, Luxembourg received 2,048 applications for asylum.
The largest number of applicants seeking asylum in 2020 came from Syria (306, i.e. 26.2% of all applicants), followed by Eritrea (188 or 16.1%) and Afghanistan (95 or 8.1%). Applicants fom Iraq and Iran (53 each) made up 4.5% of overall figures respectively, whilst applicants from Venezuela (44) represented 3.8%.
December 2020
The number of people applying for asylum in Luxembourg in December 2020 stood at 147, up from 111 the previous month but down from 163 in December 2019. A total of 111 decisions on asylum applications were taken during December 2020, with 56 applicants being granted refugee status in Luxembourg. The largest number of applicants came from Eritrea (47), followed by Syria (39) and Iraq (11).
January 2021
So far this year (as of 31 January 2021), Luxembourg has received 67 asylum applications, down from 155 in January 2020 and 226 in January 2019. 140 decisions were taking duing the month of January, with 60 applicants being granted refugee status. The largest number of applicants came from Eritrea (19) and Syria (17), followed by Afghanistan (8).