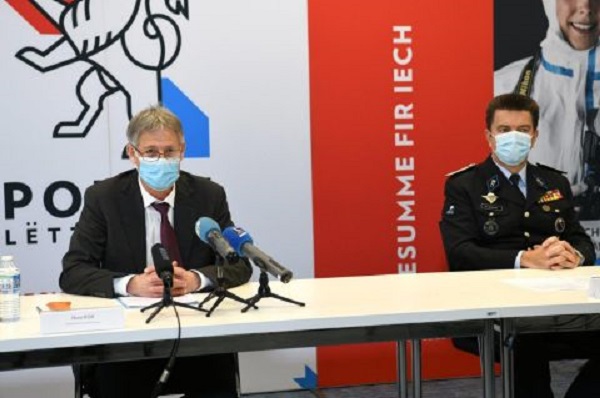 L-R: Henri Kox, Luxembourg's Minister for Internal Security; Philippe Schrantz, Director-General of the Grand Ducal Police; Credit: Police Grand-Ducale
On Monday, Luxembourg's Minister for Internal Security, Henri Kox, and the Director General of the Grand Ducal Police, Philippe Schrantz, presented an interim review of the 2020-21 police recruitment campaign.
The Grand Ducal Police plans to hire 607 police officers and 240 civilians until 2022. This recent round of vacancies attracted around 700 applicants. This was the first competitive examination organised under the new recruitment procedures, the legal framework of which was put in place in July 2020. Minister Henri Kox, Director General Philippe Schrantz and other representatives of the Grand Ducal Police expressed their satisfaction with these first results.
More specifically, some 700 people registered for the special police tests, after having successfully completed the general aptitude test (Staatsexamen) organised by the State Centre for Human Resources and Organisation Management in treatment groups B1 and C1. The candidates are currently taking these special tests. After having already taken part in the French and German language tests and a physical fitness test, the next step is psychological and general aptitude tests. These are used to assess the reasoning styles and analytical skills of candidates. They will then go through an individual interview.
Following the general aptitude tests, a ranking is established. At the end of this, candidates who have successfully completed the tests will be admitted, depending on the availability of places, to the police academy in spring 2021 as civil servants-trainees in treatment groups B1 and C1, following a medical examination and a character investigation.
200 posts are set to be filled within the framework of the current recruitment drive.
In addition, a temporary site is currently being fitted out to house the police academy from April 2021. This is located on Lux-Airport company land near Findel and will include large classrooms as well as a canteen and sports facilities.