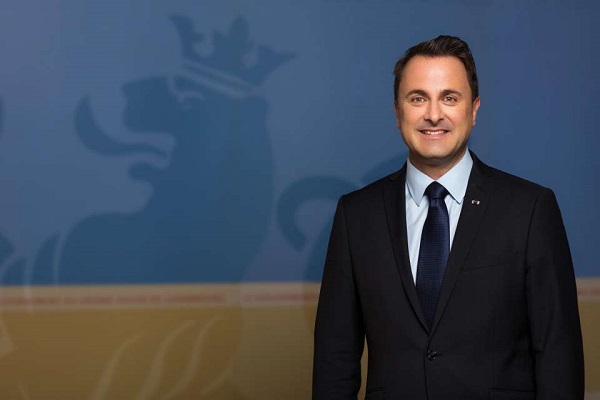 PM Xavier Bettel; Credit: SIP / Yves Kortum
On Tuesday 13 October 2020, Luxembourg's Prime Minister, Xavier Bettel, delivered a State of the Nation address to parliament which is still meeting at its temporary location in the Cercle Cité on Place d'Armes due to COVID-19 restrictions.
He started his address by emphasising the importance of everyone obeying the rules and working together to keep the virus at bay, showing solidarity with one another, and stressing: "And yet we also want as much normality as possible".
In delivering his address on the current financial, social and economic situation of the country, he introduced the topic as being all about numbers: the number of new infections, the number of hospitalisations, the number of COVID-19 patients in intensive care and the number of fatalities. He stated: "It was determined how many people are allowed to meet in the public and private spheres, how many people are allowed to sit at a table and how far one has to stay away from each other in order to respect the required distances" and added: "Numerous figures have never before been discussed so intensely, and the impact of this pandemic on our economy, our society and our public finances is largely summed up in terms of amounts and percentages".
He deviated though by stating: "Before we talk about numbers, however, we should also take the time to avoid talking about people... There is no doubt that human lives could be saved and many people did not get seriously ill because of quick, consistent and efficient responses". He added: "It is also out of the question ... that COVID-19 poses no major risk to the vast majority of the population: for a minority, however, it is very dangerous and deadly. And it depends on the minority. It is up to us as politicians, it is up to us as a society, to protect the minorities".
And he stressed: "For adults, however, COVID-19 is 3 to 13 times more dangerous than a seasonal flu. That is a scientific fact that is empirically substantiated".
He talked about meeting people and having conversations with people who have been and are directly and indirectly affected by this crisis, and summaries the impressions he formed and the messages recieved, as follows:
- Luxembourg's health system is not overloaded, the pressure on our hospitals has been constantly low for months, and there is confidence in the future.
- There has been no "explosion of unemployment".
- "We have also succeeded in stabilising businesses as well as possible". The side effects of the crisis, and in particular the lockdown, which are not minor, have remained relatively manageable.
- Nevertheless, there is also a feeling of insecurity... in the economy, in the social sector, in schools or quite simply in the population. "This should not be underestimated".
Economic Aspects
On the economic front, he referred to the stabilisation package amounting to €10.4 billion and, to support the medium- and long-term recovery, a package of measures worth €800 million was added with the 'Restart Luxembourg' initiative. He stressed that "the most important and most powerful instrument, which the state provided to the full extent, was without a doubt partial unemployment" which supported 14,810 companies in Luxembourg, securing 375,196 salaries where around €807 million was paid out.
Immediate financial aid of about €200 million was paid out quickly: €2,500 for the self-employed and then again between €3,000 and €4,000 for Independents. For small and medium-sized businesses, €5,000 was paid out in an initial phase and then again between €5,000 and €12,500 per company. He also referenced other initiatives including tax deductions on rent, mortgages and loans, etc., as well as help for start-ups, for artists, for the press and also leave for family reasons, which allowed people to be with their children. He also recalled the support of particularly economically vulnerable sectors with the Relaunch and Solidarity Fund, in particular for the Horeca, Events and Tourism areas. The accommodation vouchers were a "huge success" with 60,000+ vouchers already being used in hotels and campsites
Looking ahead, he stated: "The question now is how to proceed on this level. We are of the opinion that further specific assistance is needed after 31 December this year" particularly concerning those sectors in which the recovery has come only very slowly or not at all. He singled out for special mention the hotel, events and tourism sectors, as well as caterers.
He stated: "We will be putting in place a new direct aid system that will allow companies from vulnerable sectors to be reimbursed for part of their costs. We also intend to put in place a regime for primo-creators (people who want to start a business). These initiatives will create jobs for the future. Partial unemployment will continue to exist through 31 December 2020, mainly for companies from the vulnerable sectors, but also for other companies that have been hit by the pandemic.... Above all, however, social cohesion is at the forefront of this measure".
He summarised by stating: "The government is therefore determined to continue to do everything necessary to fight the virus, protect human life and strengthen our society, stabilise our economy and guarantee social cohesion".
On the plan for the future, he stated: "The coalition programme for this legislative period is valid and the majority parties remain behind this programme... This means that we will not be introducing any new taxes that are not part of that agreement... we are not planning a general tax reform for the budget year 2021". Nevertheless, he added: "However, there is a need for action on certain points that cannot wait until the situation allows for a more far-reaching tax reform, and that is why we are taking immediate action".
He highlighted the current loophole that enables various players to operate on the Luxembourg real estate market virtually tax-free, and stated that it "is no longer acceptable". From 1 January 2021, the current tax regime will be changed that direct or indirect income from Luxembourg real estate will be taxed at a rate of 20%. With around 1,450 specialised investment funds in Luxembourg at present, only about 10% of them are active in the real estate sector and very little engaged on the Luxembourg market: "but there are abuses and we will correct them".
In referencing Luxembourg's financial centre, he stressed that the Grand duchy has "implemented all international and European rules and standards - often before others - both in terms of tax transparency, the fight against international tax avoidance, and also in the fight against money laundering". He added: "Over 50,000 people work in the financial centre, over 30% of our wealth is created there... During the crisis, it became clear how valuable the financial centre is for the rest of our economy".
In February, before the crisis, unemployment in Luxembourg was at 5.5%; with a high of 7% in April, the rate has since fallen to 6.4% in August. The recovery has been traced back to the hospitality sector. He acknowledged: "What worries us, however, is the unemployment rate among those young people who are particularly affected by this crisis". As of 31 August 2020, of the approximately 18,500 available workers in the country, almost 4,000 are younger than 30 years - an increase of 34.5% in one year; he addressed the new initiatives on internships which has recently been introduced.
He used ArcelorMittal and Luxair as examples "where the government is prepared to take on social responsibility and avoid redundancies in the context of the tripartite sector, provided that management also takes responsibility".
Overall, he stated: "Economic activity is slowly rising again. Confidence is rising again, both among consumers and businesses and investors. The financial markets have stabilised, our financial sector - the mainstay of our economy - is functioning despite the constraints of social distancing".
On the state finances, he referred back to April, when the stability programme for 2020 was announced, it was assumed that Luxembourg would run a deficit of more than €5 billion this year. At the moment, however, it looks like the figure is closer to €4.4 billion.
He referred to Luxembourg entering the crisis with sound public finances: Luxembourg's tax surplus of €528 million in 2018 and €60 million in 2019. He acknowledged that Parliament has authorised new loans of over €3 billion for this year alone to cover the costs of the crisis, in addition to an authorisation already provided for in the 2020 budget for a so-called "sustainable loan". At the end of the year, purely mechanically, we would be in debt of €16 billion or 27.4% of GDP which he explained "is one of the lowest levels in the EU and even worldwide".
He emphasised that "now is not the time to save. Now is not the time to raise taxes. Now is the time to invest and put our economy back on track".
Public Health
On the health aspects of the COVID-19 pandemic, he stated: "So far, we have tested over 540,000 people in Luxembourg at least once. More than 1 million tests have been performed since the outbreak of the virus in this country, of which 60% via Large Scale Testing". He also revealed "About a third of the people who tested positive were identified through the work of contact tracing".
He continued: "At the end of March, the average age of residents who tested positive was around 47 years ... in May at 37 years and at the end of September at around 35 years. It can therefore be said that the elderly in particular today are significantly less likely to become infected with the virus than in the beginning".
He also revealed that "... we do not currently see any reason for new restrictions" and continued: "We are not of the opinion that a general lockdown would be necessary again".
On numbers, he confirmed that Luxembourg obtained "around 90 million masks (27 million masks are in reserves), 34 million pairs of gloves, 2.5 million protective vests and a myriad of small materials, other products and medicines used in our hospitals. The government has practically set up overnight scanners in our four major hospitals to accelerate the diagnosis of COVID-19 in patients. The hospitals then reorganised their activities so that there was room for 180 COVID-19 patients in intensive care. At the height of the pandemic, 45 beds were occupied".
He also revealed that, since April, 72 more respirators have been distributed to our 4 large hospitals: "At the beginning of the crisis, we had around 223 respirators in the various hospital areas, we now have 295. We have around 80 more respirators for emergencies in our national stock".
He stated that "should the number of new infections develop so that we get shortages in medical practices, we can react quickly. That is why we have set up ready-made infrastructures in two places here in the country - once in Kirchberg and once in Esch - to treat COVID-19 patients at all times".
He talked about the national testing strategy, with the average age of those who tested positive this week being exactly 36.8 years.
Climate Change
He also addressed the issue of climate change and stated: "It is therefore high time that we crack down on our efforts to counteract this. We took the first steps in this regard and earlier this year adopted the PNEC, the national climate and energy plan. This plan is a crucial tool for achieving our ambitious goals. We want to reduce greenhouse gas emissions by 55% by 2030, increase renewable energies to 25% of the national energy mix and increase energy efficiency from 40% to 44%".
He emphasised: "We are committed to creating fiscal and financial incentives that support a transition to more climate - friendly technologies". He mentioned the principle of ecological solidarity where the polluter pays. CO2 emissions tax contributions will reach €20 per tonne of CO2 in 2021 and then increase to €25 per tonne of CO2 in 2022 and to €30 in 2023. "Specifically, for the year 2021, this means an increase of approximately 5 cents per litre of diesel and petrol at the pump", he revealed.
He stated: "Firstly, in parallel with the introduction of the CO2 tax, the tax credit for employees, self-employed persons and pensioners will be increased by €96 a year and, secondly, we will increase the sustainable living allowance by 10%".
On the incentives for sustainable mobility, he revealed that "there has been a real boom in bicycles, electric bicycles and also in electric cars. Within a year there were over 13,500 applications for normal and almost 10,000 applications for electric bikes... Since the additional incentive under our economic recovery measures, the number of applications has almost quadrupled. Electric cars have also received more applications in the last 3 months than in the whole of the previous year".
On investing in solar panels on homes, he stated: "3 times more solar systems were installed each year than was the case in previous years. Today, over 200,000 people in Luxembourg are supplied with wind energy from home".
Agriculture
He acknowledged that we are now asking ourselves about what can we use that is produced locally. "It is one of the positive aspects of this difficult time that we have learned to focus more on what is closer to us ... We want to strengthen local production and also help drive the transition to more organic production".
He talked about the circular economy and referenced the Automotive Campus in Bissen which is planned, developed and built in accordance with the rules of the circular economy, with the government eyeing further projects in this area.
Mobility
On investment in the railway network, he referenced the new line between Bettembourg and Luxembourg, as well as the extension of the Luxembourg Central station from 9 to 13 platforms and the order for 34 new rolling stock carriages which are key elements for rail traffic to continue to improve: the capacity will increase from 25,500 to 38,000 in the coming years to 2024.
He also referenced the expansion of the tramway in the direction of Merl and Cessange, as well as road infrastructure, in particular the expansion to three lanes on the A3 from the Croix de Gasperich to the border. Investments continue in cycle paths with 285 km of new cycle paths currently planned and studies are underway to build a further 148 km of cycle paths.
Housing
On the issue of the housing market, he acknowledged "this is for many reasons a problem that has preoccupied us for years, not to say decades. There is no single solution, but it is a combination of a whole series of measures that must be implemented to take the pressure off. A key element, however, is to increase supply and create affordable housing through the public sector - through the state, and also through municipalities".
He revealed that the state-owned housing company SNHBM alone has brought about 1,000 homes to market in the last six years. The Fonds du Logement has provided about 650 dwellings in the same period. He stated: "There are still very large projects in the making, such as the very innovative and modern Elmen project in the municipality of Kiel, where 750 homes will be created and the two large projects on the old industrial site in Wiltz and Dudelange. We continue to invest and we invest consistently. Thus, the budget of the Ministry of Housing for 2021 provides for an increase of 11% compared to this year".
He stated that today we find that demand is rising, as investors are entering the market to buy existing housing, which they will then continue to rent out. He acknowledged: "It has thus developed into a factor of speculation. We have to slow down and therefore the amortisation (repayment) rate will be reduced from 6% to 5% next year and the amortisation period will also be reduced from 6 to 5 years. For investors who own real estate with a value of over €1 million, the rate drops to 4%. These new rules apply to any item purchased after 1 January 2021".
Municipalities
He stated that the government is aware that the effects of the COVID-19 crisis will also have an impact on municipal finances. He revealed that "we recently had an exchange with Syvicol where, in addition to politics in general, municipal finances were also involved. The draft budget estimates that the municipalities have a deficit of €213 million for this year, which is directly or indirectly due to the current crisis". He acknowledged: "It is essential, however, that municipalities remain able to act and fulfil their obligations. We support them in doing so. Subsidies are maintained and there have been occasional increases".
Employment
He stated that "the government has decided to create around 1,000 new jobs next year", in teaching, the health sector and the civil service.
He also stated that around 27 services were added in the last 12 months to MyGuichet which has seen 1.3 million transactions between January and September (three times as much as in the same period last year).
Children's Rights
He stated that we need reform in a whole range of areas and mentioned legislation on youth protection, where currently the protection of young people and repression are mixed and confused. He stated: "It is therefore envisaged to submit two different projects, once on the protection of the rights of children and young people, and a second text on repressive measures, respectively penalties in case of minors being punished".
Mental Health
He also addressed mental health in that the crisis has had an impact on the psychosocial health of many people and has exacerbated existing difficulties and pathologies, such as psychosis and depression, or re-triggered them when they had been under control. This related to both inpatient and outpatient treatment, as well as for help for victims of domestic violence.
Education
In addition to employees in the health and related sectors, he also singled out teachers for praise during the pandemic.
He addressed the education budget for next year, despite very high investments in recent years, which will provide for €169 million more than this year, i.e. an increase of 6.4%: the budget is for education, mentoring, childcare is over €2.8 billion.
He acknowledged that sport in schools has suffered during the pandemic and confirmed that the government has unblocked an additional budget of €5 million, which will directly benefit sports.
Press
On the media, he stated: "It is important to me that we have a strong professional press... It is not good for the media to be weak or to rely exclusively on the advertising market" and added: "In recent months, we have also presented a series of reforms that confirm and strengthen the media in Luxembourg and its independence. This includes the reform of press assistance, which now no longer counts on quantity, but on quality", a reference to the reform of the Aide à la Press which is currently being processed by parliament and the Council of State.
He called out Radio Ara, Luxembourg's community radio, and acknowledged that it "will not be able to benefit from it as intended". He explained that "we are of the opinion that the valuable contribution that this media makes to our society should be adequately acknowledged and supported. For this reason, we are in the process of finding concrete opportunities to take this into account, as intended. And I am confident that we will find a solution here as well, in particular in exchange with the committee responsible in Parliament, which, following the opinion of the Council of State, will address this text".
Culture
He also acknowledged that "the impact of the current crisis on the cultural sector is enormous. It was with the first area that closed its doors, and is also one of the last that can resume its normal activities". He referenced that, during the pandemic, more than 1,000 events and more than 100 exhibitions were (not) held and a total of over one million spectators were affected.
Culture represents around 5% of the jobs in Luxembourg. The cultural sector employs a total of more than 12,200 people, with an over-representation of the self-employed. Revenues from cultural infrastructures show a significant decline, as between 15% and 30% of turnover comes directly from their activities.
He also acknowledged: "Even after the reopening of cultural institutions, the lasting consequences of the crisis in the coming months will still be felt. Since the takeover this autumn, the events have taken place under strict conditions, so that the capacities can only be used up to halfway through".
He confirmed: "The government has therefore supported the cultural sector for 2020 with additional measures amounting to €5 million, this in particular to encourage the creation of new cultural formats".
Foreign Policy
He addressed the issue of foreign policy, such as Belarus and our relations with Russia and also including development aid, and he additionally referenced Brexit, the last phase of which he described as "one of the current and eminently major challenges". He added: "Despite great efforts and intensive work by Chief Negotiator Michel Barnier, negotiations on the future relationship between the EU and the United Kingdom have not progressed well. The recent decisions of the British Government not to comply in part with the terms of the withdrawal agreement have certainly not contributed to a constructive atmosphere. Even today, positions in important areas are far apart; especially in fishing, but also in terms of the so-called level playing field. To have access to the EU market, one must adhere to a minimum of rules and standards, in the social sphere, in environmental and climate protection, as well as in taxation and state aid".
He did however state: "The United Kingdom has unfortunately left the EU. We regret but accept this. However, they remain an important partner for Luxembourg in many areas - one of which is most certainly that of the financial services. Our financial centre has, as I have already described, been kept afloat in the aftermath of Brexit, and in some areas we were able to expand our position".
Wrap-up
In concluding the Prime Minister referenced the issue of social distancing and stated: "In recent months, we have repeatedly had to reiterate the need to respect social distancing. This term has been integrated into our language usage and we speak of "social distance" in a sense where it is about paying attention to one another. It could not be more contradictory. In fact, we in our country have moved closer to each other in our thinking and action and there have been moments in recent months where one could feel this very clearly. One could feel and see how great and deep the solidarity between the people really is when it comes down to it".