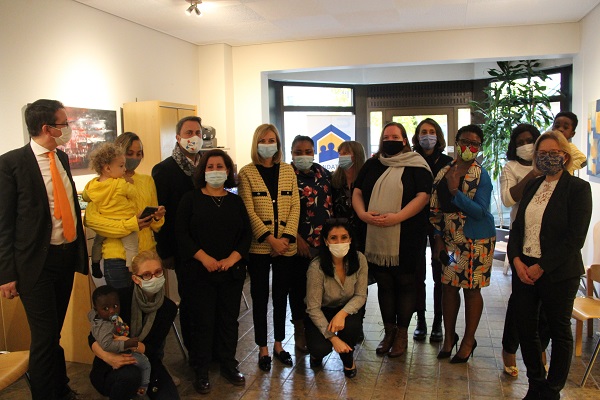 Luxembourg's Prime Minister Xavier Bettel and Equality Minister Taina Bofferding during their visit to Foyer Paula Bové; Credit: ME
On Thursday 8 October 2020, Luxembourg's Prime Minister Xavier Bettel and Minister of Equality between Women and Men, Taina Bofferding, visited a reception centre for women in distress, Foyer Paula Bové of the Fondation Maison de la Porte ouverte (FMPO).
The objective of this visit was to discuss the social work carried out by the FMPO and its staff for the benefit of women in distress situations and in particular the challenges encountered by FMPO in the management of the health crisis. They also discussed the priorities defined for the post-containment period. In addition to these discussions, the ministers met various tenants of Foyer Paula Bové to discuss their experiences and life plans.
Luxembourg's Prime Minister noted: "The COVID crisis and the resulting lockdown phase has forced many families and couples to continuously live in unusual and perhaps difficult [circumstances]. But, violence in all its facets and in all its forms is not and will never be tolerated. It was important that the victims did not feel alone, that they could get help at any time and be supported by support structures and services. It was therefore crucial for the government to take all the necessary measures so that its aid and assistance network in this area could ensure its activities in order to guarantee any victim a system of aid and assistance during this crisis period".
Minister Taina Bofferding acknowledged that "the crisis phase linked to COVID-19 has been particularly difficult for reception structures and consultation centres and the organisations have perfectly mastered the situation".
This visit not only made it possible to take stock of the crisis and discuss post-containment priorities, but also to thank the staff for their dedication and to discuss their experiences and perspectives with the tenants. Minister Taina Bofferding also welcomed the good cooperation between the Equality Ministry and contracted managers, including FMPO, which allows the state to assume a strong social role.