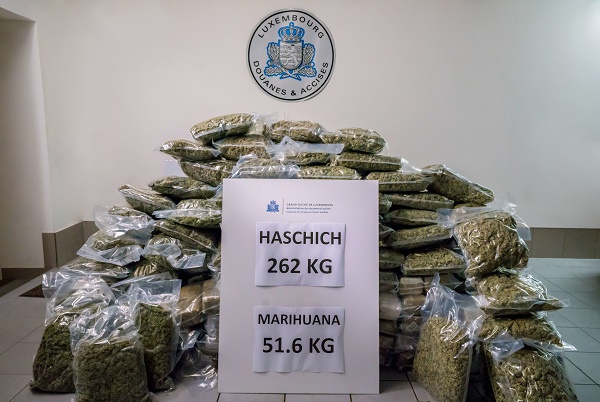 Drugs Haul December 2019; Credit: Administration des douanes et accises
The Grand Ducal Police have announced that during the week before Christmas, officers from Luxembourg's Customs and Excise Administration were successful in a drugs bust where the market value is around €2.5 million.
The incident happened on 18 December when Customs officers followed and intercepted a van returning from a trip to Spain. Assisted by dog ​​handlers, the officers discovered 262 kg of hashish and 51.6 kg of marihuana when the vehicle was searched.
A few days earlier, investigators put an end to heavy trafficking in heroin and cocaine in the south of the country. After months of investigation in collaboration with the Belgian authorities, the agents intercepted a Belgian dealer who is understood to have regularly come to Luxembourg to deliver heroin and cocaine to Luxembourg residents.
When the dealer was arrested, more than 200 grams of heroin, 50 grams of cocaine and €3,500 were confiscated by customs officials. During subsequent searches in Belgium, more than 6 kilos of heroin were confiscated by the Belgian authorities.