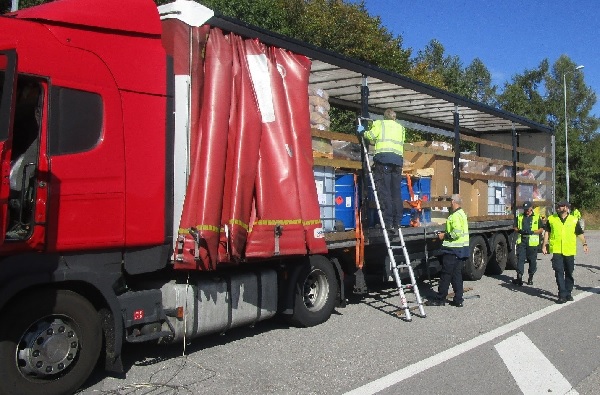 Cross-border checks; Credit: MMTP
A cross-border road transport inspection for vehicles carrying dangerous goods in Luxembourg has found 32 vehicles to be in breach of the law.
As part of a European collaboration under the auspices of the Euro Road Control (ERC), the Ministry of Mobility and Public Works, in collaboration with the Customs and Excise Agency, organised the fifth ACE (ADR Crossborder Enforcement; Cross-border control of the transport of dangerous goods) in the Grand Duchy.
Luxembourgish customs officials, accompanied by inspectors from Belgium, Croatia, France, Germany, Poland, Spain, the Netherlands and Romania, inspected vehicles carrying dangerous goods on the Grand Duchy's motorways on Tuesday 3 September and Wednesday 4 September 2019.
These officials checked a total of 59 vehicles and detected 32 offences under the ADR agreement. These included five vehicles with defective marking, nine with defective load security, seven with a defect of non-conformity of the vehicle or the packaging, seven which lacked written instructions or safety equipment and four with other offences. A further nine vehicles were immobilised.