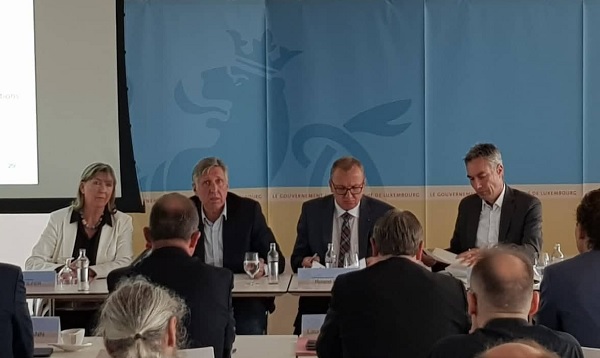 Press conference with Lydie Polfer, François Bausch and representatives of the Public Works and Roads Administrations; Credit: Jazmin Campbell
On Thursday morning, the Ministry of Mobility and Public Works and the Ville de Luxembourg (VdL) unveiled concrete plans for the redevelopment of Boulevard F.D. Roosevelt and Place de la Constitution in Luxembourg-Ville at a press conference.
On this occasion, François Bausch, Minister for Mobility and Public Works, and Lydie Polfer, Mayor of the Ville de Luxembourg, together with the Public Works Administration and the Roads Administration, presented the project.
Firstly, following the beginning of construction works on 22 July 2019, the next stage of the redevelopment of Bouldevard F.D. Roosevelt will see the installation of bus lanes and cycle paths in early November 2019. The project aims to improve the situation on two levels: on the one hand, for public transport which will be prioritised in both directions on Boulevard F.D. Roosevelt; on the other hand, for cyclists and pedestrians travelling between the Gare and Centre-Ville districts.
These improvements will be made by setting up a bus lane towards Place de la Constitution, which will also involve the redesign of the bus stops in front of the cathedral. In addition, a two-way cycle path will be installed. All facilities, bus stops, cycle paths and pedestrian crossings will comply with the requirements for people with reduced mobility. In addition, the trees that will have to be removed during the works will be replanted according to a landscaping concept in modified islets. Construction is scheduled to end on 4 November 2019 to allow for the circulation of buses and bicycles on the new lanes.
Similarly, the VdL and Luxembourgish Government have announced plans to redevelop Place de la Constitution and its surroundings to create a car-free friendly space and allow multifunctional use of the site. A pavilion featuring a tourist reception, a sales point and a small restaurant as well as a new entrance to the casemates are envisaged. There is also the possibility of connecting the Pétrusse Valley to Place de la Constitution via a lift.
In this context, a competition for architects, urban planners and landscapers will be launched in October 2019. The selection process will then begin towards the end of the year with the jury making a decision in April 2020. Redevelopment is scheduled to begin (in stages) next summer.