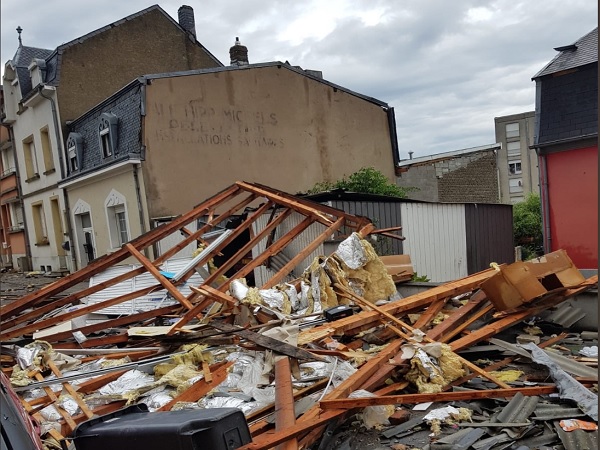 Tornado aftermath in southern Luxembourg; Credit: CGDIS
The Government Crisis Unit has announced that 72 people were rehoused in hotels on Monday evening, following the tornado that affected the municipalities of Pétange and Kaerjeng in southern Luxembourg on Friday.
After a third visit to Pétange and Kaerjeng, Luxembourg's Minister of the Interior Taina Bofferding chaired another meeting of the Government Crisis Unit on Monday evening, in the presence of Mayor of Pétange Pierre Mellina and alderman Frank Pirrotte to take stock of the situation and discuss the next steps. The Unit confirmed that more than 80 volunteers from the "Technisches Hilfswerk" came from Germany on Monday morning to support the Luxembourgish authorities. This allowed those on the field to maintain a steady pace of closing roofs, despite several rain showers having complicated the works.
At another meeting, held this morning, the Crisis Unit revealed that 72 people had been rehoused in hotels on Monday evening: 46 by the Pétange municipality and 26 by the Kaerjeng municiplaity. In addition, over 80 members of the rescue services continue working on site today, including 30 volunteer members from the German "Technisches Hilfswerk". The two municipalities affected as well as private companies will be supporting the clearing work that remains to be done.
Whilst MeteoLux has forecast a slight improvement in weather with some showers and a reduced risk of storms, traffic remains disrupted in and around the streets where work is still ongoing.