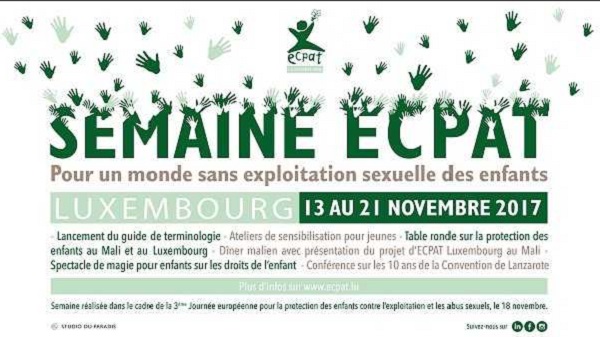 ECPAT Luxembourg will launch its "Semaine ECPAT" from 13 to 21 November 2017 to mark the European Day on the Protection of Children against Sexual Exploitation and Sexual Abuse (18 November).
Established in 1995, the non-profit organization ECPAT Luxembourg has been developing projects to fight the sexual exploitation of children in Luxembourg, broader Europe and Western and South Africa, where ECPAT has two offices. In the Grand Duchy and its European neighbours, the asbl uses awareness campaigns together with other European ECPATs, as well as advocacy and lobbying activities of Luxembourg and global authorities. In Africa, local partners are in charge of implementing ECPAT's activities.
This month, on 13 November, ECPAT Luxembourg will launch its "Semaine ECPAT" with several events planned to raise awareness of the issue. These include a Malian lunch, a round table focusing on the organisation's projects in Mali, workshops in schools on online sexual exploitation and an event for children with a magician.
Further details are available on www.ecpat.lu.