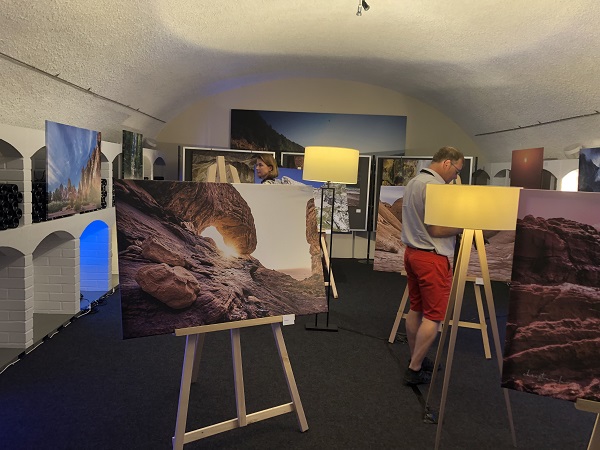 Christian Lamy's work at the "1 World - 3 Views" exhibition; Credit: Otilia Dragan/Chronicle.lu
On the evening of Thursday 7 September 2023, the photography exhibition "1 World - 3 Views", organised by the municipality of Grevenmacher in the cellars of Bernard-Massard, kicked off in Grevenmacher.
The vernissage was part of the annual wine harvest festival and guests were offered a glass of crémant upon arrival. The mayor of Grevenmacher, Léon Gloder, was present for the occasion, as was alderwoman Monique Hermes, who introduced the artists and the exhibition, as well as the 2022 "Wäikinnigin" (Wine Queen), Zoé, and City Manager of Grevenmacher, Tom Schwartz.
Christian Lamy, a Luxembourgish photographer who travels far and wide, Kateryna Mostova, a Ukrainian photographer who has recently found a new home in Luxembourg, and Ludo Segers, a Belgian photographer and journalist based in Grevenmacher, each had their work exhibited in a different room within the cellars, showcasing their personal view of the world.
Chronicle.lu spoke to each of them, to learn more about their personal approach to photography.
Ludo Segers' photography started with meditative shots, shots of landscapes and a minimalist, evocative touch suggesting multiple meanings in the simple and mundane. The other side of the room dedicated to his photography featured portrait photography, notably some of the family of Barack Obama. Ludo Segers' photography seems to be a collection of happy chance encounters. He told Chronicle.lu that he had been in Washington (US) to take pictures of Petro Poroshenko (president of Ukraine from 2014 to 2019) while he was visiting the White House. Having made connections there, and having received a six-month permit, Ludo Segers was later able to come in and photograph the family of Barack Obama, whom he described as "very open".
Talking about his travels, he noted that he usually goes to locations specifically to photograph a particular subject, but that "sometimes before A and B, all of a sudden something interesting shows up." Such an unexpected moment made for the perfect shot on an aeroplane, which he named as one of his favourite photographs: "I was sitting on the left side of the aircraft and it was a brand new airplane, so the windows were spotless. I see this scene on the other side - luckily, I always have my camera. I took my camera, moved to the other side of the airplane and took four photographs." He explained he had flown over Istanbul many times prior, but this one shot was special due to the atmospheric fog. Discussing his artistic process, Ludo Segers said: "I've discovered that when I'm on a mission or I have a task, it seems my mind gets sharpened or I become far more alert. Very often I anticipate, I feel the situation coming."
Kateryna Mostova explained how important it was to her to "bring something beautiful into this world" and discussed her preference for portrait photography, especially in underwater scenes. In this exhibition, she noted she wanted to show the beauty and diversity of Ukraine. She said that in January 2022, she also started a documentary project about Ukrainian refugees. "I am now interested in more serious projects. I would like to do something which can bring more information and more insight into [the current] situations." She also touched on the story of how she relocated to Luxembourg, upon an acquaintance's invitation and due to being stuck in Kyiv, where she had previously lived for almost ten years, but then she was facing a country at war, a city with no electricity and no job opportunities. She noted she was impressed by Luxembourg and its people, and that she hoped Ukraine would take inspiration from the Grand Duchy when rebuilding the country.
Christian Lamy discussed his approach to improving his photography skills, namely "practice, practice, practice, and train your eye to see situations." He said he believes photography is more about "simplifying, reducing complexity" instead of working with a blank canvas, but also "anticipating situations". He noted he learned to wait, to be patient, to take risks but also to be calm and concentrated. He cited street photography as one of his favourite types of photography, but also landscape photography. "Usually with good pictures, my legs hurt," he explained, detailing how it took an hour-and-a-half tiring, freezing walk from Lapland, in Finland, to find an awe-inspiring image: the mist rising over the snow. To him, photographs hold stories, feelings and event scents and that this capacity of "freezing a moment" made them particularly powerful. "Unfortunately, a lot of these spots, icebergs, the jungle, may no longer exist today," he deplored, adding that taking photographs can mean preserving the sights for the next generation. "It takes less than a second to take a picture but it lasts for eternity," he enthused.
The exhibition is free of charge and will remain open to the public until Sunday 10 September 2023.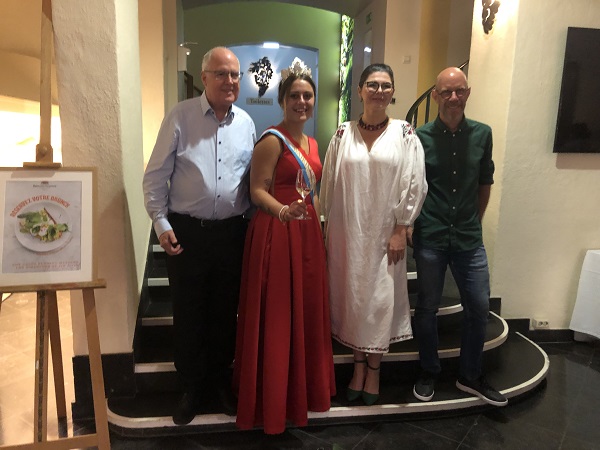 (L-R) Ludo Segers; 2022 Wine Queen Zoé; Kateryna Mostova; Christian Lamy (Credit: Otilia Dragan/Chronicle.lu)