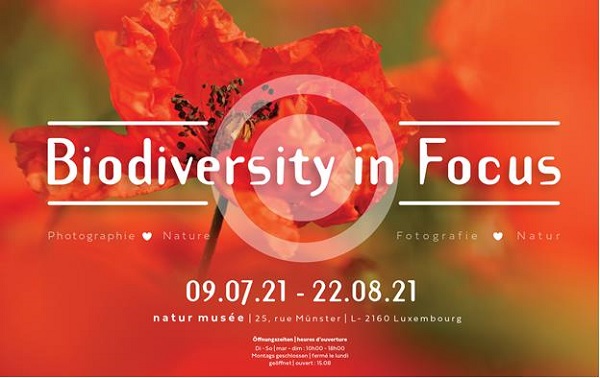 Credit: MNHN
Luxembourg's National Museum of Natural History (also known by its French abbreviation MNHN and in Luxembourgish as natur musée) will open its new temporary exhibition "Biodiversity in Focus" on Thursday 8 July 2021 at 18:00.
The Greater Region has a magnificent palette of colours thanks to its landscapes and its natural heritage. The Biodiversity in Focus exhibition now bears witness to this with more than 200 photographs, inviting spectators to take a closer look at the living tissue that surrounds our planet.
For this exhibition, the MNHN has invited extraordinary photographers from Luxembourg and the Greater Region to show spectators something new, fresh and alive. The selected photos were taken with a passion for nature in all its facets. They are the expression of people for whom every day and every moment is a gift.
Following its opening on Thursday, Biodiversity in Focus will run at MNHN from 9 July to 22 August 2021, Tuesdays to Sundays from 10:00 to 18:00.
Reservation is required for the opening, which will follow the CovidCheck regime, at www.mnhn.lu/vernissage.
The exhibition is curated by Eric Schockmel from MNHM, with the participation of the following photographers: Raymond Clement, Harry Daemen, Roland Felten, Georges Forster, Jean-Marie Mangen, Marc Pletgen and Jean Theisen from Lëtzebuerger Naturfoto Frënn (LNF); Paul Hilbert, Claude Hostert and Martin Patz from Walfer Foto-Frënn (WFF); Margaretha Inghelram-Maeyens from Fotoclub Gemeng Nidderaanven (FCN); Claudia Ewen, Etienne Fontinoy and Sylvie Mauricio from Fotosfrënn Käerjeng; Carsten Braun, Kerstin Dropmann, Heike Engelhart, Dirk Funhoff, Silvia Geiger, Hans-Peter Heneka, Burkhard Hillert, Horst Jegen, Steffen Jung, Thomas Kirchen, Gerd Kirchner, Volker Nagel, Jens Sager, Elfriede Schaaf-Rueffel, Thomas Scheffel, Gabriela Schmiel, Patrick Schönecker, Daniel Spohn, Britta Strack, Sebastian Vogel and Steffen Zender from GDT RG6 (Hessen / Rhineland-Palatinate / Saarland); Chantal Daoust and Irina Sedova from Royal Photon Arlon; Alexandra Chapon, Didier Delbary, Annie Dorioz and Abel Mayer from Photo Club Thionville Yutz.