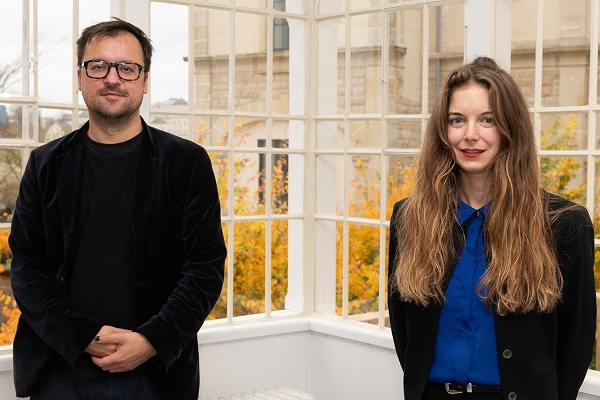 Prize winners Lisa Kohl and Filip Markiewicz; Credit: Henri Goergen
The President and the members of the Board of Directors of the Cercle Artistique de Luxembourg (CAL) have announced this year's winners of the Prix Pierre Werner: Lisa Kohl and Filip Markiewicz.
The CAL unveiled the winners of the Prix Pierre Werner 2020 during a press conference held yesterday at its headquarters, in the presence of Luxembourg's Minister of Culture Sam Tanson.
The jury unanimously awarded this year's prize to artists Lisa Kohl, for her series of photographs entitled "Sleepers 2" (118 x 75), and Filip Markiewicz, for his oil on canvas "Antigone" (120 x 140).
The two chosen works crystallise questions and translate situations which condition the current world. The CAL described the artistic endeavours of Lisa Kohl and Filip Markiewicz as among the most relevant to today's creation. Lisa Kohl's "Sleepers" gives a surprising vision with a snapshot that says a lot about a time in which confinement has become a daily occurrance. "Antigone" represents the exceptional and complex universe of Filip Markiewicz, who makes urgent reference to changing news and quotes from the history of art.
The jury congratulated Lisa Kohl and Filip Markiewicz and expressed its delight with this proof of a constantly evolving artistic scene.
The jury was composed of: jury president Marc Hostert, President of CAL; Suzanne Cotter, Director of Mudam; jury secretary Satu Corke, general secretary of CAL; Dr Gabriele Lohberg, former Director of Europäische Kunstakademie in Trier; Christian Mosar, artistic director of Espace Lavandier & le Bridderhaus in Esch sur Alzette; Daniel Michiels, photographer; and Guy Thewes, historian and director of Musée de la Ville de Luxembourg.