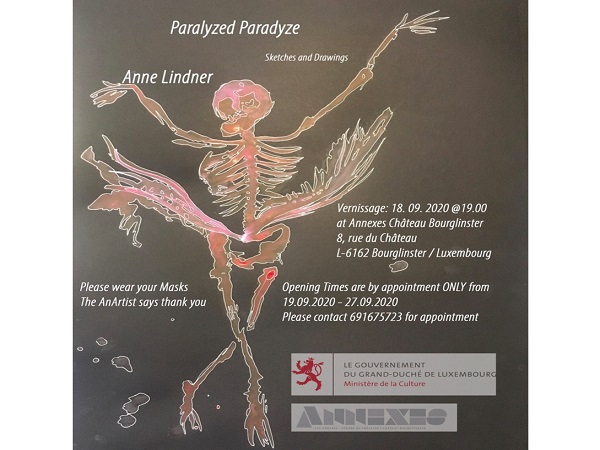 The Annexes of Bourglinster Castle will be exhibiting works by Luxembourg-based independent artist Anne Lindner from 19 to 27 September 2020.
"Paralyzed Paradyze" is an exhibition about finding the paradise within yourself. It is about finding the beauty in everything. Anne Lindner invites the spectator into her universe of drawings and sketches, which formed the recent series of paintings that she produces: the passion and forms of art. How to find space and material that are in our everyday life and make a beautiful set of drawings on different kind of surfaces, in this case a variety of paper and canvases. The fragile and sometimes gloomy drawings invite viewer to escape day to day life and plunge into the hidden universe that surrounds everyone, but is mostly forgetten.
The opening of the exhibition "Paralyzed Paradyze" by Anne Lindner will take place this Friday 18 September 2020 at 19:00, in the Open Space room of the castle's Annexes. The exhibition will then run from Saturday 19 to Sunday 27 September 2020.
Attendance is subject to appointment only, via tel.: 691-675723. Visitors are reminded to wear their masks.