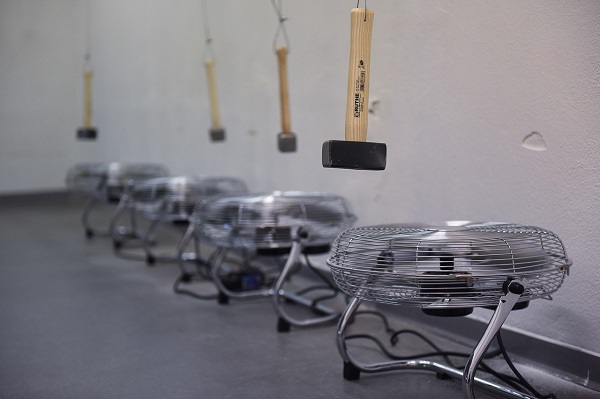 Works from Max Mertens' "Sollbruchstelle" exhibition; Credit: Joanna Pianka
Luxembourgish artist Max Mertens will exhibit at Annexe22 from 25 July 2020 as part of the European Capital of Culture - Esch2022 project.
As part of its activities, Esch2022 is offering local and international artists the possibility of using its Annex22 platform in Esch-sur-Alzette to carry out their projects.
Local artist Max Mertens will be presenting his exhibition "Sollbruchstelle" at the venue from 25 July to 5 September 2020. The exhibition is also on display online via an interactive virtual tour. Decomposing what exists, expanding the present and reimagining it - this is Max Mertens' ambition in his works. The Sollbruchstelle exhibition is no exception.
The German term "Sollbruchstelle" refers to a programmed breaking point, i.e. a place where a structure or construction must fail when loaded or overloaded. Fascinated by the self-destruction of the works of Swiss artist Jean Tinguely, Max Mertens highlights in his new work the creative act of destruction. By entering the Annexe22, visitors set off a mechanism by which the sculpture is permanently damaged and modifies itself, as Max Mertens explains: "This work is distinguished by the aesthetic process of wear. It will not be the same at the end as at the beginning, which is precisely what makes it so captivating to me".
The opening of Max Mertens' exhibition "Sollbruchstelle" will take place on 25 July from 11:00 to 13:00, in compliance with the sanitary measures in force. The exhibition is open to the public Thursdays and Fridays from 14:00 to 18:00 and Saturdays and Sundays from 11:00 to 18:00. The link to the virtual visit will be available from Saturday on Facebook and on the website www.esch2022.lu.