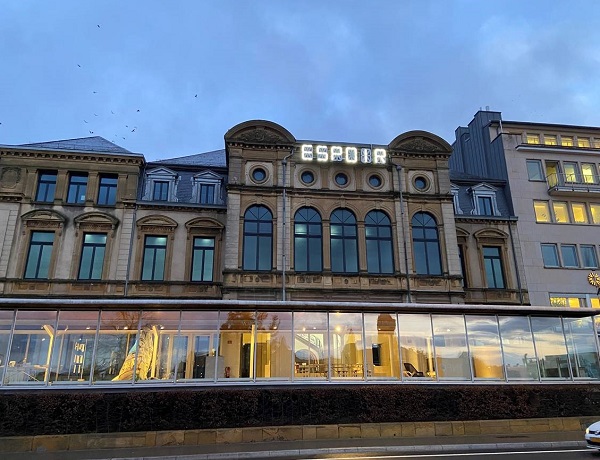 Zaitwuert; Credit: Casino Luxembourg
Casino Luxembourg - Forum d'art contemporain has announced that it is sharing its exhibitions during the current confinement period by publishing documents online.
Despite the health restrictions enforcing the indefinite closure of cultural venues, Casino Luxembourg will be documenting its exhibitions and artistic projects online.
The digital documents contain texts, photos and videos of the three exhibitions which had to close their doors in March 2020: Sophie Jung's "They Might Stay the Night", Rachel Maclean's "I'm Terribly Sorry" and Ben Wheele's "Deep | Dark | Dank". Descriptions of the works of art, artists' illustrations and historical references, researched and written in collaboration with the artists, delve deeper into the themes addressed in the exhibitions. A selection of texts and bibliographic references available online is also offered here.
This initiative supplements those already in place on the Casino Luxembourg's social networks since the beginning of the confinement measures taken to curb the spread of COVID-19 (coronavirus). The CC/casino_casanier series, published on Facebook, consists of a selection of videos from the Casino Channel platform and presents conferences and past exhibitions.
A live 24-hour video performance by artists Fabien Giraud and Raphaël Siboni, entitled "The Everted Capital (1971-4936) / Saison 2, épisode 2", can also be watched on Facebook. This film, generated in real time, whose form changes indefinitely via artificial intelligence, is shown every Friday at midday until midday the following day (GMT+1), and will continue until the end of confinement.
On Instagram, the centre has a page dedicated to "Zäit Wuert", a permanent work of art created by the LAb[au] artists' collective for the south façade of the Casino Luxembourg, on the side of Boulevard Roosevelt. This luminous sign is made up of six letters which show words displayed depending on a process which randomly generates letters by checking the existence of each combination in an English, German, French and Luxembourgish dictionary. Any photos taken of this artwork can be posted on the page https://www.instagram.com/zait_wuert/ with the tag #zaitwuert.